As the number of acres protected by the Black Swamp Conservancy grows, so does our responsibility to our partner landowners and to the environment. This summer, the Conservancy will surpass the milestone of more than 20,000 permanently protected acres. And we plan to keep growing.
To help serve our mission, we recently hired our first full-time field-based employee, Land Steward Freya Berntson. Freya will focus on ecological management of our owned lands and assist with easement monitoring. Freya holds a master's in natural resource stewardship with a concentration in ecological restoration. She has worked in land and plant management throughout the western Lake Erie basin and has experience with citizen science and volunteer coordination.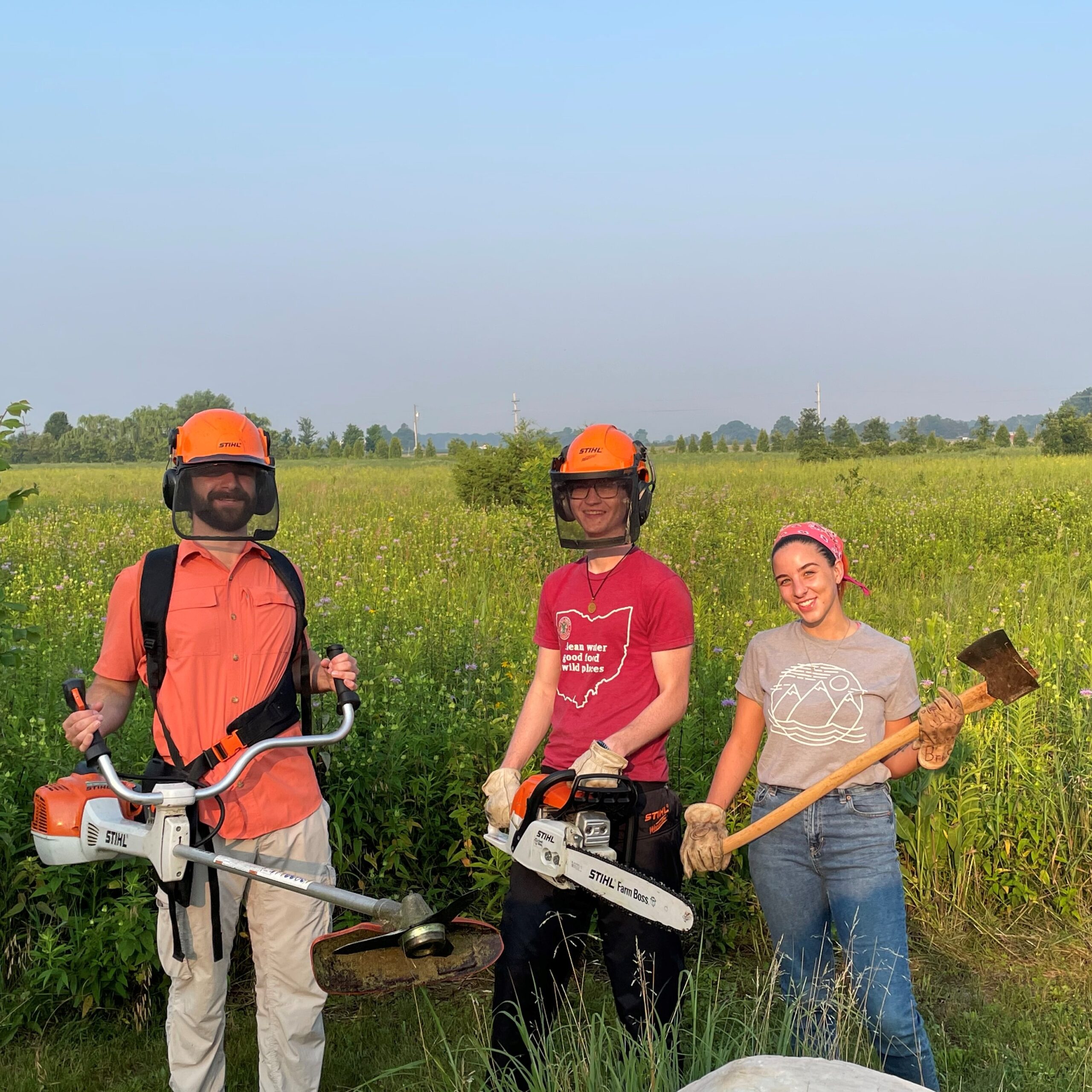 As Freya gets started in her new job, she will be assisted by an able seasonal Field Crew team. Brice Stiner graduated from Bowling Green State University and has returned to the crew for a second season. He has a degree in environmental science with a major in sustainable management. New to the crew are Matt Thompson and Aston Spencer. Matt is a senior at the University of Toledo completing his degree in environmental science. Ashton is at BGSU working toward her degree in environmental science with a watershed management concentration. Freya is pleased to start her new job with this team. She said, "I feel honored for the opportunity to work with this crew. They are literally the next generation of natural resource managers, and I sincerely want to help guide them on their career journey in the best way possible."
In her first months on the job, Freya explored the Conservancy's protected acreage in 12 northwest Ohio counties including the 11 Conservancy-owned properties. Where the Conservancy has undertaken restoration projects, she is monitoring growth and development. "The real work is just getting started when you finish earthmoving and planting," she said. Freya and her team will monitor the growth of new plantings and suppress invasives that could impede healthy growth. Freya uses her knowledge of plant development to manage invasive plant species like Canada Thistle and Teasel. The thistles were flowering in July, so it was full speed ahead to remove them before they seed. Phragmites are treated in the fall when they flower. Freya said, "We want to be good neighbors and keep our weeds to ourselves."
The field crew's day-to-day work is somewhat dependent on the weather. In the summer, there is a lot of cutting and mowing, which can be done even in a light rain. Herbicides will only be effective when applied in dry weather. "I try to sketch out a work plan a week or so ahead of time," said Freya. "But sometimes we get chased out by thunder and lightning." When that happens, she and her team scout areas to help prepare for the next weeks' work. While they might be busy with thistles, they keep their eyes open for anything that could benefit from their attention. The field crew is also the team that posts and repairs signs and other visitor infrastructure.
As she gets settled in her new position, Freya is establishing her priorities. Over time, she will see where her work has the most impact and will be adjusting best practices to each property. "This is a unique job with a unique mission," she said. "I'm excited to develop professionally and help the Conservancy grow and prosper." She notes that her job can be physically hard and difficult. It's often hot or wet, and there are always machines that need to be fixed. But she loves the earth and her career. "I am helping to restore the land to its full natural value. My work restores the integrity of natural systems and that is good work."