Native plants thrive and pollinators flutter on two new two-story murals in urban Toledo. Both displays tell the story of how plants are part of the great water cycle, taking up water through filtered soil, creating flowers and seeds, and making a living landscape that supports life above ground and below.
The pair of outdoor wall paintings were inspired by the conservation work of the Black Swamp Conservancy and the wishes of neighborhood residents. Rob Krain, executive director of the Black Swamp Conservancy, suggested that neighborhood art installations would be an approachable, attractive way to share the message of conserving land and protecting natural resources. Ryan Bunch, communications and outreach coordinator for the Arts Commission, saw that those ideas would fit with the preferences of neighbors who had been discussing issues of clean water and environmental justice. Bunch applied for and was awarded grants for the two sites, and Toledo firm Graphite Design + Build was hired to design and paint.
Rob Krain said, "I am grateful to The Arts Commission and Graphite Design + Build for their partnership and enthusiasm on this fun project. Our hope here is to better connect Toledo's urban core to its natural history while also beautifying these neighborhoods with special works of art."
One mural is at 18th and Adams in the Uptown district of Toledo. It's on the back wall of the Poco Loco restaurant, adjacent to a large rain garden at Uptown Green. The other is at Harry Kessler Park in East Toledo at 328 Main Street, a shady pocket park with brick paving and small flower plots. Signage will be added at both locations to share more details about the projects.
The work is part of "creative placemaking" by the Arts Commission. "The goal is to build awareness of the natural environment," said Ryan Bunch. "This artwork shows the development of Toledo. We see neighborhoods transform from Great Black Swamp, to industrial activity, and now to common neighborhood spaces that offer inspiration and respite."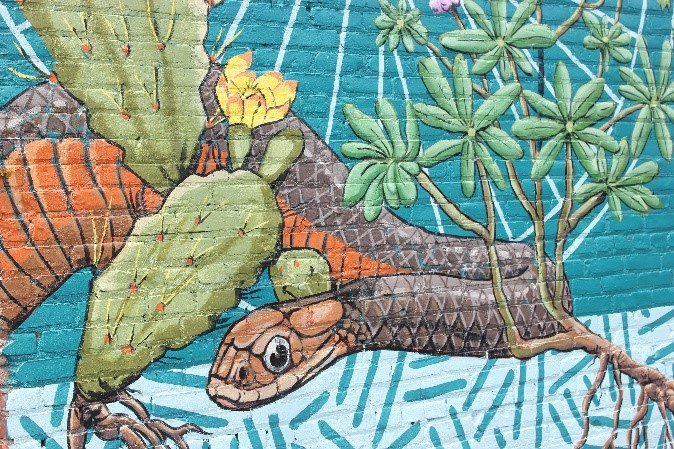 A northern ring-necked snake cuddles a prickly pear cactus and some wild lupin in this detail from the Adams Street mural. Prickly pear cactus is a rare plant in Ohio, but it can be found in some sandy soils.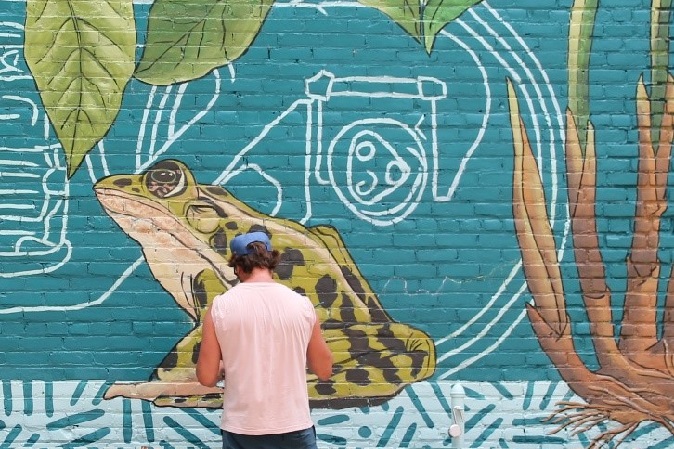 Doug Kampfer of Graphite Design + Build adds details to the leopard frog on the Main Street mural. Ghost images in the background show Toledo's railroad history. The patterns at the bottom represent the soil and its role as a water filter.