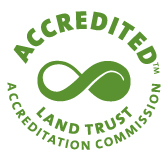 The Black Swamp Conservancy is excited to share that our status as an accredited land trust program has been renewed. This endorsement is a mark of distinction that confirms the organization has strong leadership, uses best fiscal practices, and maintains the tools and operations to remain permanent stewards of the land it protects. It demonstrates confidence in our business practices and land management techniques.
As an accredited land trust program, the Conservancy is part of a network of organizations operating at the highest level of service. Black Swamp Conservancy Executive Director Rob Krain said, "The review by the commission pushes us be sure that we are doing the very best we can to protect the land and to defend our conservation lands to ensure that the special places we preserve are protected forever."
The Land Trust Accreditation Commission is an independent program of the Land Trust Alliance. Their accreditation follows an extensive review of the Conservancy's policies and programs including public input. For the full list of standards see landtrustaccreditation.org.
Thank you for your support and confidence in Black Swamp Conservancy. We couldn't do it without your help.