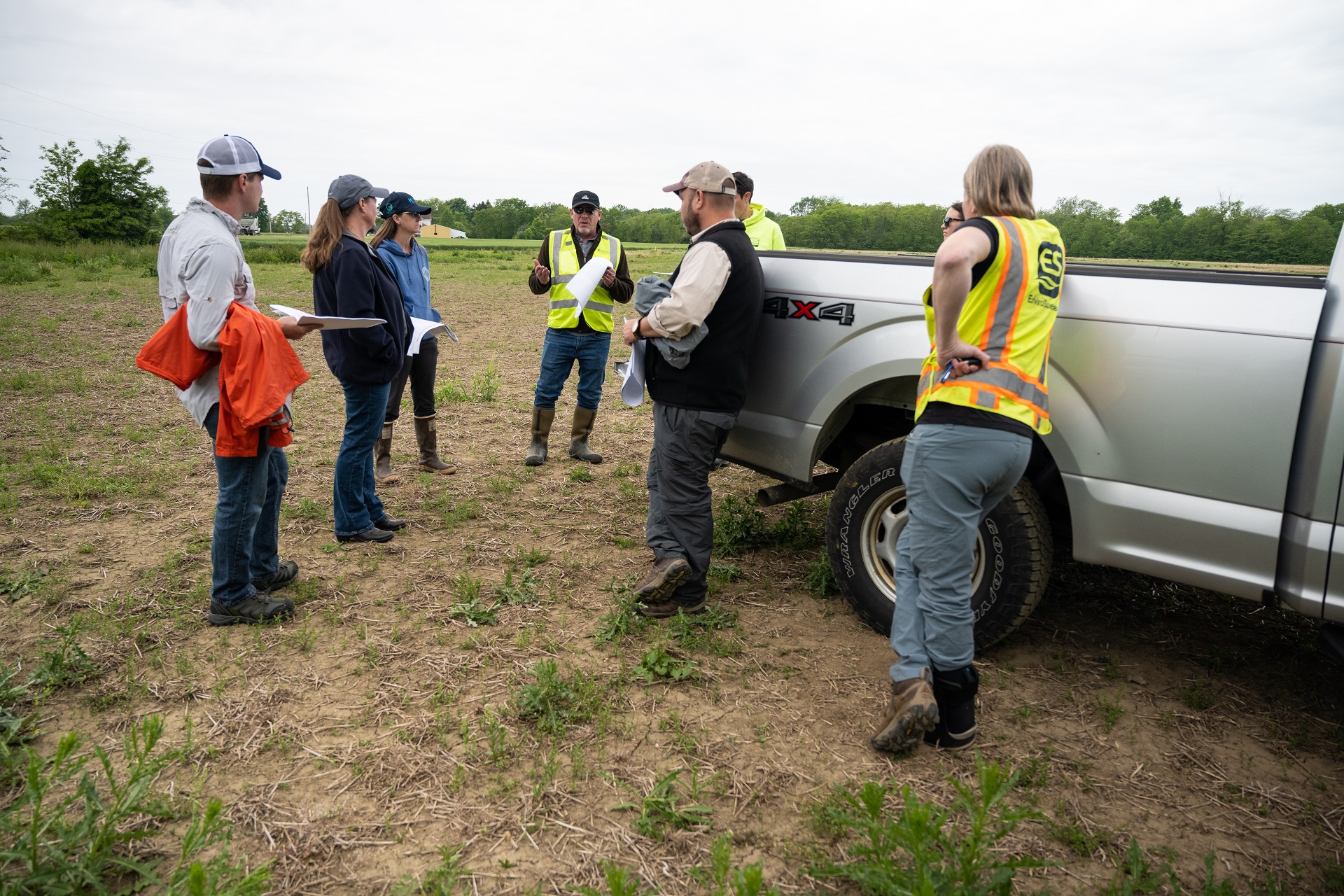 "The main character is the land," said filmmaker Christy Frank talking about the documentary she and collaborator Alex Goetz are working on for the Black Swamp Conservancy. Their story documents how a drab member of the chorus is transformed into a vibrant star actor. Their lead character is about 100 acres at the new Clary-Boulee-McDonald Nature Preserve along Wolf Creek in Seneca County.
The Conservancy is thrilled to work with wildlife filmmakers and journalists Frank and Goetz on this video project. They are local talent with international credits including National Geographic WILD, BBC, PBS Nature, and CBS.
Their film follows the Conservancy's habitat restoration project in a way that allows viewers to better understand the how and why of these projects. Viewers will be able to see the before-and-after and how it all happens in between. The before is a mono-crop field farmed under conventional practices. All that grew was the farmer's grain. In the after you see all kinds of trees and shrubs growing in a diversity of habitat with wetlands, floodplains, pollinator prairies, and forested woodland.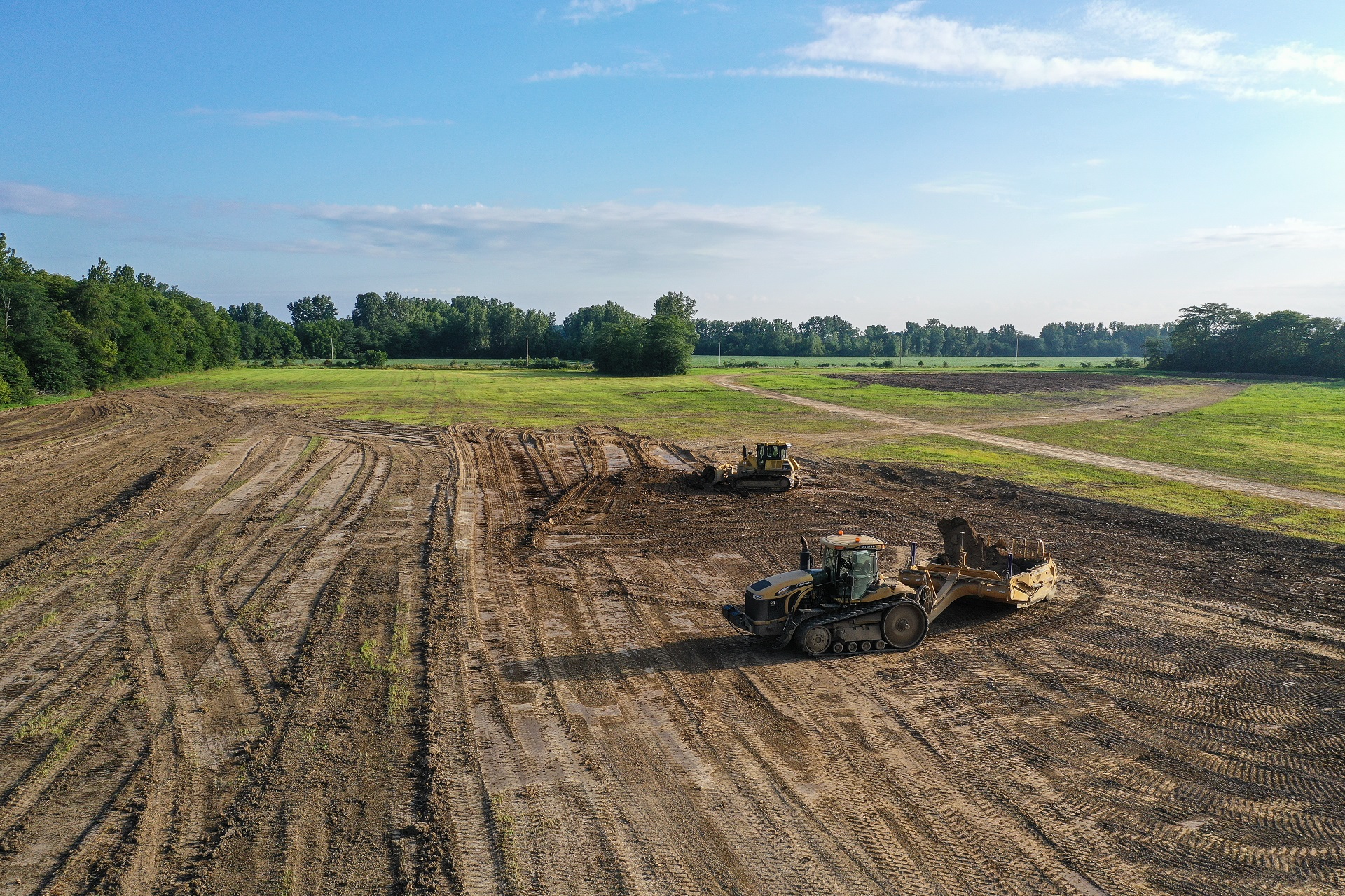 The filmmaker team was there when the parcel was an ordinary, flat, agricultural field and they will be there filming the final planting, documenting a complete transformation to multi-level wetlands and prairie. The pair sat in on the early planning process learning about grading the land, about protecting nearby farms' drainage, listening to discussion about what kind of plants should go where. Then Frank and Goetz documented putting the plan into action. They flew drones, sat in earthmovers, and followed the process. "It was neat to see how quickly the water was flowing in, right where they had planned," said Frank. The film will show a year of work in about 15 minutes.
In interview segments, the film shows how the work affects a much broader region than the 100 acres being reconstructed. Conservancy staff explains how the floodplain channels reduce regional flooding. The wetlands hold water and allow excess nutrients from nearby farms to be treated naturally in the soil, impacting the health of nearby rivers and Lake Erie. The diversity of plants provide food for pollinators and the improved habitat allows animals to thrive over a wide territory. 
Christy Frank enjoyed her first documentary about land restoration. "It was cool how quickly nature reclaimed and took over. It gives you hope, which we all need."
Later this year, with the work complete, the Conservancy plans to gift the Clary-Boulee-McDonald Nature Preserve to the Seneca County Park District, which will operate it as a public park. 
The Filmmakers
Alex Goetz is a wildlife filmmaker and photographer, and co-founder of Running Wild Media, a film production company specializing in stories of wildlife and conservation. He has contributed to outlets such as National Geographic WILD, BBC, PBS Nature, CBS Sunday Morning, and was a winner of the National Geographic WILD "Wild to Inspire" film competition. An Ohio native, some of his extensive travels have taken him from the countryside of Tasmania filming Tasmanian devils, to boating throughout the vibrant Marshall Islands, and road-tripping around four amazing African countries filming wildlife and conservation efforts.
Christy Frank is a photojournalist, writer, and filmmaker based in the Midwest Great Lakes region. She is passionate about storytelling that intersects environmental and human conditions.  Her work has appeared on CBS News and PBS Nature, as well as in Audubon, bioGraphic, National Wildlife Federation, Toledo City Paper, and as a highly honored conservation story in Nature's Best. Her most recent film, Ploverville, won the First Time Filmmakers Award at the 2022 Fresh Coast Film Festival and is currently on the festival circuit.