One of the responsibilities of the Conservancy is to maintain the properties under our protection and work to improve their health and ecological function. This requires planning and hard work.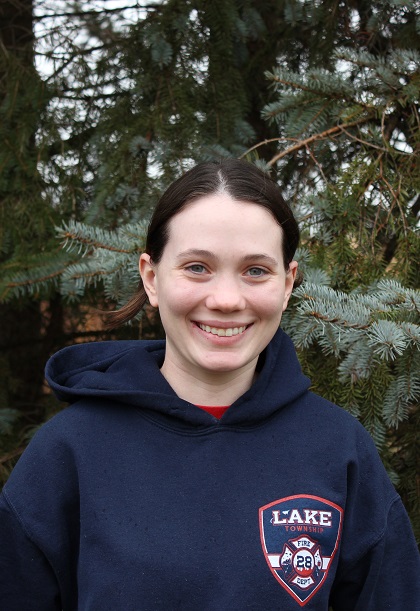 Scarlet Rice joined the team in early 2023 as our full-time Land Steward. Prior to that, she spent a year with us as a seasonal crew member and intern. She monitors the properties under our protection and directs the work of our summer crew. Their biggest job in the summer of 2023 was caring for our 393-acre Forrest Woods Nature Preserve and, in particular, Forder Bridge River Access Site. The team treated about three-quarters of the acres in the preserve, going to war with Canada thistle and common teasel. These plants are aggressive and really thrive in restoration fields, especially in the Paulding clay basin. It takes a helping hand to get our native species to shoulder out these weeds and become established.
In the spring and early summer, before most of the native plants are growing, the team treats two-year teasels with targeted herbicide. The ones they don't get early will bolt up, growing taller than our 5-foot land steward. These will be cut down – sometime two or three times – before the seed head is established. In the fall, the team looks to the ground for the flat rosettes that are first-year teasels. These get the targeted herbicide treatment. For protection, the team works in long sleeves and gloves with safety glasses even in the hottest weather. They add hard hats and chaps when using weed whackers and other mechanical equipment.
In the winter, Scarlet works with just one part-time intern, and their focus shifts to woody invasive plants in forested areas. In our region, it's mostly bush honeysuckle and autumn olive. These are cut off at the base and a targeted dot of herbicide goes on the cut stump.
Scarlet and her crew also work on improving infrastructure at our preserves. This year they installed signs, built benches, installed gates, and set up a wildlife camera trap to track species occurrences. Rice said her crew "starts out being strangers, from all kinds of backgrounds, but we become good friends when we work together in the heat."
While we are fortunate to have grant opportunities to protect and restore property, there are few programs that help to fund the ongoing maintenance of our preserves. Your donation supports this essential work. Give a gift today at blackswamp.org/donate.