*This event is sold out. There will not be any tickets available at the door.
Is there anything more exciting than a live auction? Below are the items that will be on offer at our So Wild a Place event. 
What will you bid on?
Hand-crafted Cedar Bench
Enjoy this unique cedar bench for both its artistry and practicality. Designed and hand-crafted by a master woodworker, this natural decay and insect-resistant cedar wood bench will provide for years of sitting enjoyment.
Hand-crafted by Christopher Jones
Elevated Cedar Garden Beds
Elevated garden beds are easier to plant, tend, and harvest than in-ground beds – no bending, stooping, or kneeling required! They have fewer pest and weed problems. Plus, they look fabulous!
At nearly 36″ high, these hand-crafted cedar planters are the perfect height for easy gardening. They are a generous 12″ deep, so you can grow big plants like tomatoes and root crops like carrots. With a combined total of 16 square feet of growing space, there's plenty of room for multiple crops, yielding a generous harvest. Set up these rectangular beds at the edge of your patio to create a convenient kitchen garden, or fill them with flowers for a stunning display.
Donated materials by Home Depot and Hirzel Farms; Hand-crafted by Rob Krain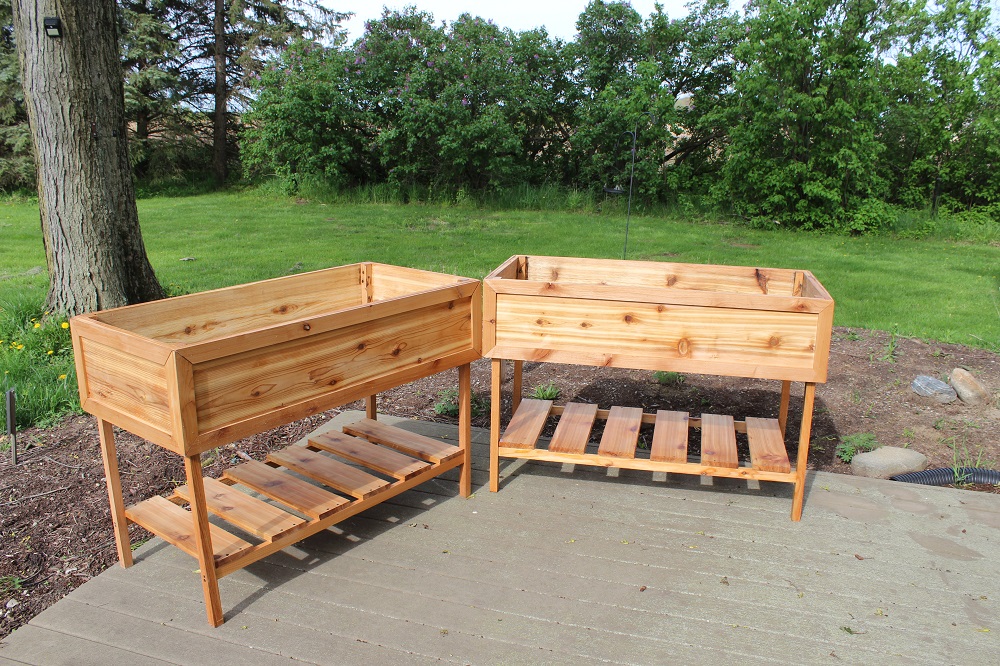 Canoe Trip on Green Creek
Have a wonderful time on this private paddle along the scenic Green Creek! You and your 7 guests will start at Decoy Marsh, a Sandusky County Park District property protected by Black Swamp Conservancy, and paddle out to Muddy Creek Bay. Rob Krain, The Conservancy's Executive Director, will be your guide. Afterward, you and your guests will enjoy lunch on the property. All equipment is provided.
Courtesy of Sandusky County Park District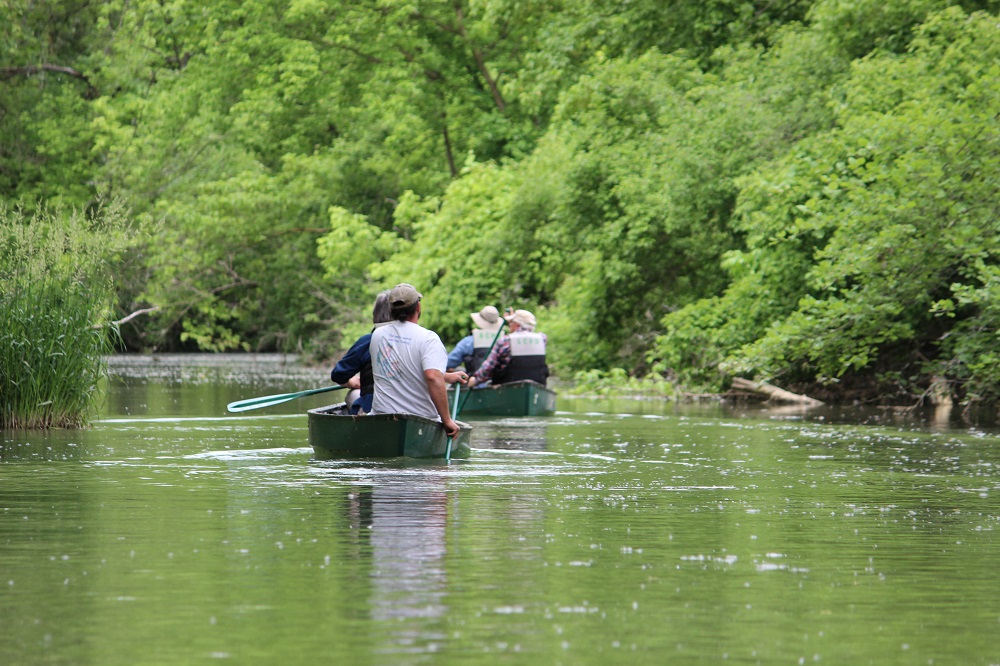 Introductory Flight Lesson and a 100 Dollar Hamburger
Up, up, and away! This amazing air adventure will give you a bird's eye view of many of the Black Swamp Conservancy's protected lands and shorelines. The lucky student will meet Instructor Bill Davis at the Wood County Regional Airport to learn the procedures required for a successful take-off, flight, and landing. Bill will engage you in the processes of checking the weather, fueling the plane, studying the panel instrumentation, starting the engine, and taking off. Once in the air, the student will have the opportunity to fly and also to help land the plane.
This 3 to 4-hour experience includes a flight to Port Clinton, OH, where a $100 "belly buster" hamburger at the Tin Goose Diner awaits you before your return flight to the Wood County Regional Airport.
Donated by Bill Davis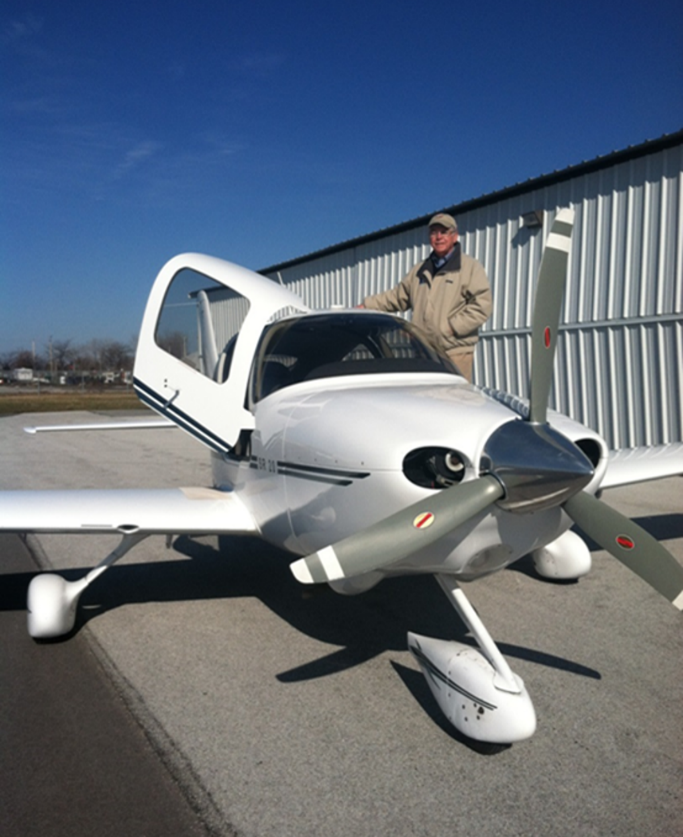 Take Me Out to the Ballgame
Catch the celebrated Toledo Mud Hens from the best vantage point in Fifth Third Field – a suite! This package includes 12 game tickets and two parking passes. Your game will be arranged with the donor for a mutually agreed-upon date during the remainder of the 2022 season.
Food and beverage selections are available but are not included in this package.
Donated by Marco's Pizza and Shawn Chowdhary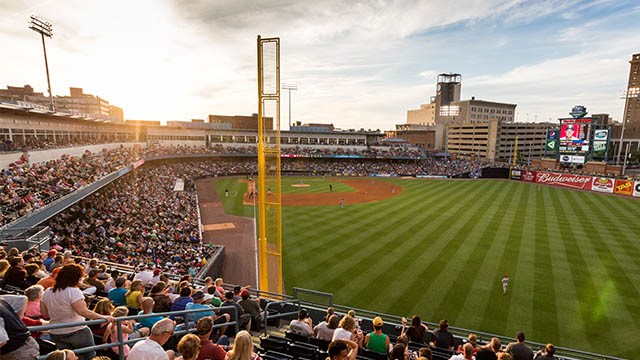 Star Gazer's Getaway in Athens
This newly renovated, kid-friendly apartment is seconds away from Stroud's Run State Park, and a short scenic drive from Athens and Ohio University. It's a stargazer's dream with zero light pollution, new furnishings that include comfortable beds, a sleeper sofa, gas stove, dishwasher, fridge, and 55-inch Roku TV with Wi-Fi. A trailhead to Stroud's Run State Park is a few houses down, and maps are available. Coffee is provided, and local eggs and bread are available upon request.
The two-bedroom, one-bath space is perfect for a family with small children, and can comfortably sleep up to seven. Everything is brand new! The entryway opens into a spacious living area and flows into the kitchen which is fully stocked and ready for cooking. A propane heater in the living area is a great way to warm up after a chilly hike in the winter. The bathroom features an extra-large shower and bath, powered by an on-demand water heater that ensures a large family has enough hot water for showers/baths! The master bedroom has a new plush, king-sized mattress on a platform bed that is super comfortable. The second bedroom has a twin-over-full bunk bed that is perfect for small children or adults. There are ample kid toys and books in the space too, as well as childproof outlet covers and oven knobs. A travel crib also is available!
Accommodates up to 7 guests (2 bedrooms, 3 beds, and 1 bath) and can be reserved for any open date between 11/1/2022 and 4/1/2023.
Donated by John and Gretchen Gregory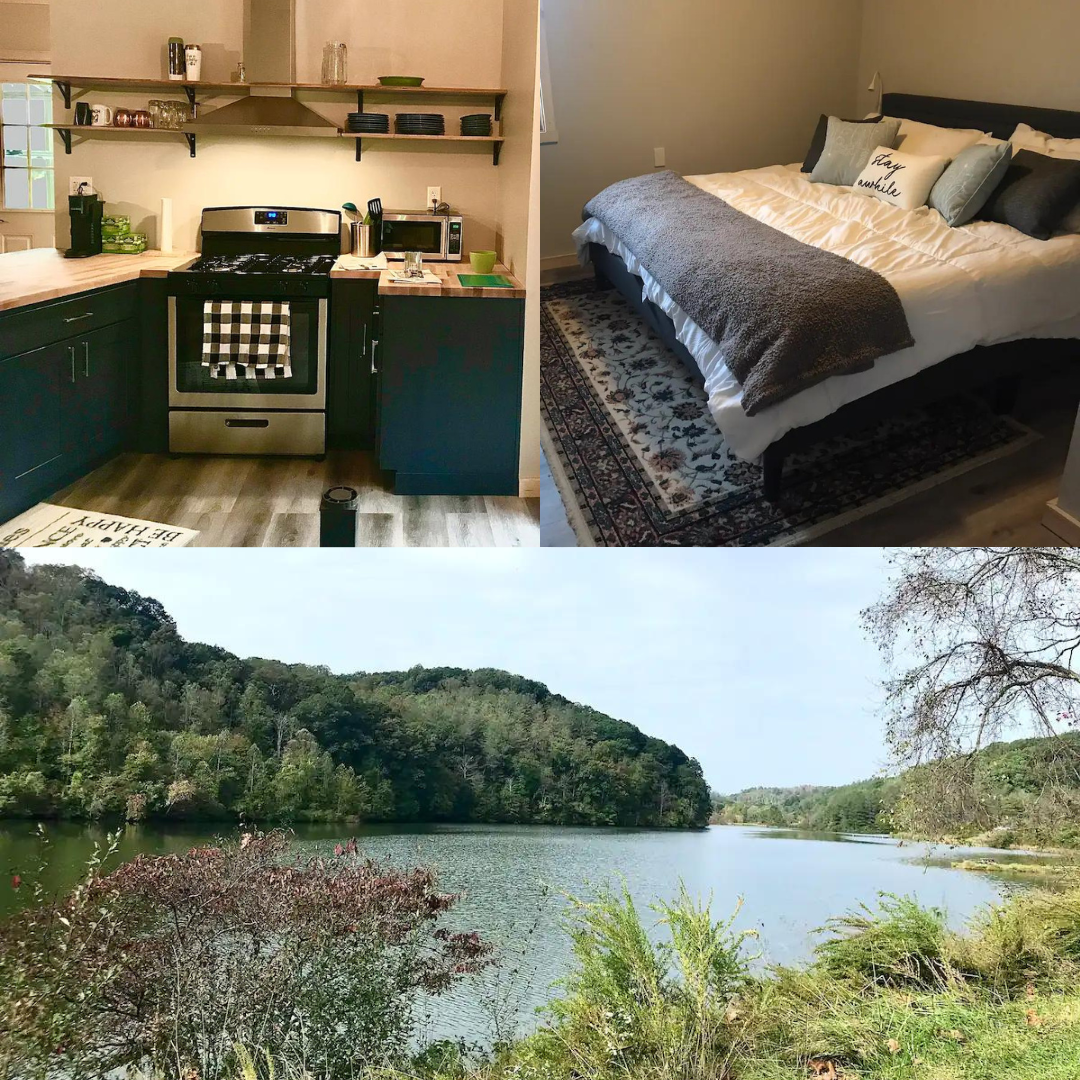 Thorn Bottom Hunting – Wild Pheasant Hunting
For the experienced sporting enthusiast, Thorn Bottom Hunting is offering a unique wild pheasant hunt. Comparable to any South Dakotan wild hunt offering, this 20-bird hunt package includes an experienced guide alongside well-trained hunting dogs, as well as bird cleaning.
While all participants who are carrying a gun must have hunting experience, Thorn Bottom Hunting encourages guests of the hunters to walk along, take pictures, and enjoy the hunt and the diverse natural surroundings of Paulding County, Ohio.
Wishing to recreate the wild hunting experiences of his youth, Brad Dysinger, along with his wife, Ann, has been operating Thorn Bottom Hunting for 24 years as a place to remember what hunting is truly about.
Donated by Brad & Ann Dysinger of Thorn Bottom Hunting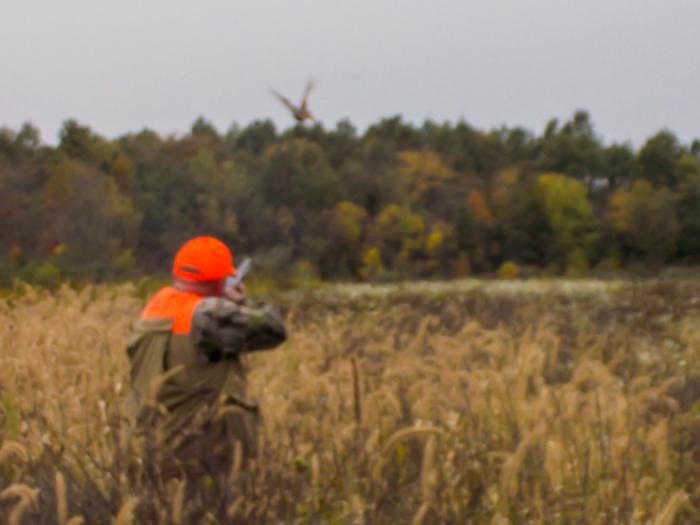 Otsego Road Cabin Platforms
Spend two nights camping in the trees while enjoying the view of the river from the new Otsego Road Cabin Platforms, the Liberty and the Freedom. The cabins accommodate up to 8 people inside (4 in each cabin), plus 2 in a tent outside on Liberty's deck.
Combine your overnight experience with a paddle on the Maumee River Water Trail or a hike or bike excursion on the towpath. Then unwind in a hammock or relax by the fire at day's end. The brand new Otsego Road Cabin Platforms are conveniently located just off of the Towpath Trail at Bend View Metropark and offer elevated scenic views of the beautiful Maumee River.
Donated by Metroparks Toledo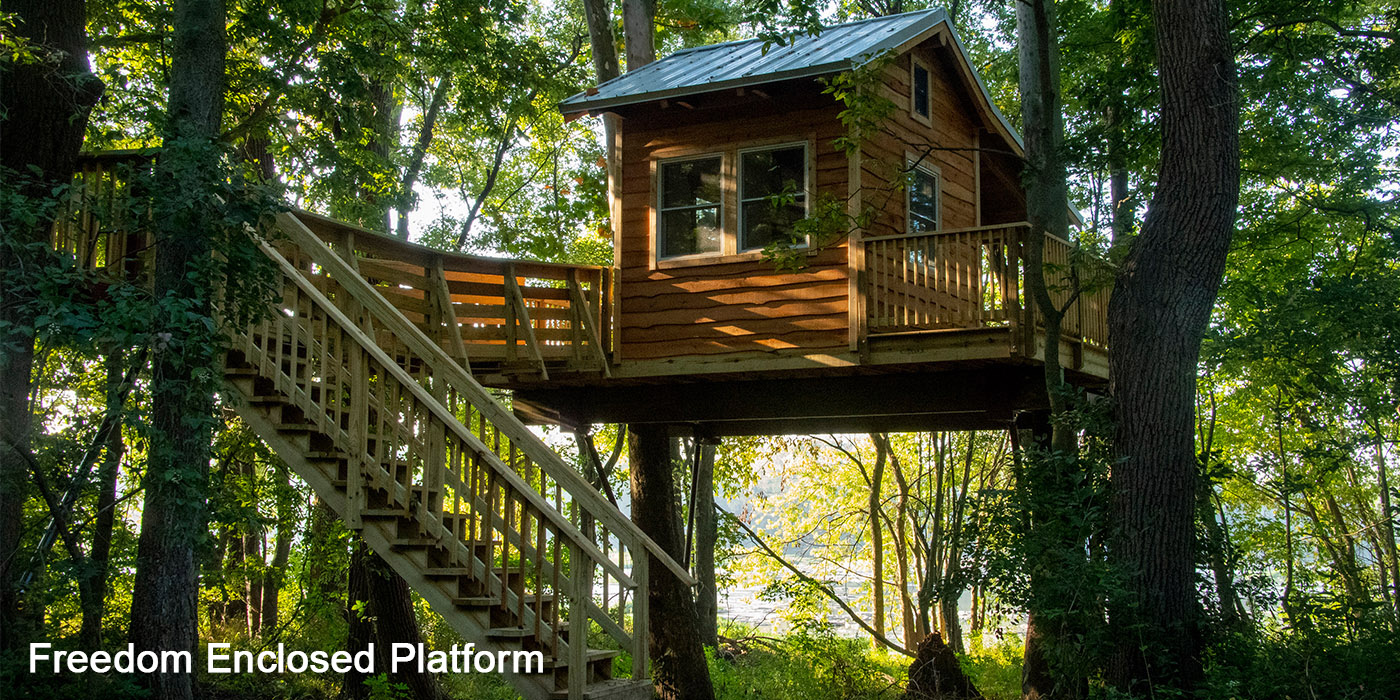 Exclusive Tour of Toussaint Shooting Club
You and your 7 guests will enjoy an exclusive walking tour of Black Swamp Conservancy's largest protected property.  Incorporated in 1885, Toussaint Shooting Club hosts 1,100+ acres of coastal marshland. Lunch is included on the private sandy beach which runs along more than a mile of Lake Erie shoreline. 
This truly spectacular property is home to at least 41 endangered and threatened plants and animals and is a safe haven for migrating, nesting, and wading birds. The vast contiguous lakeshore marsh is vital to Lake Erie water restoration efforts. Limit 8 guests. Scheduled on a mutually agreeable date in 2022 – ideally in August, but can be flexible.
Courtesy of Toussaint Shooting Club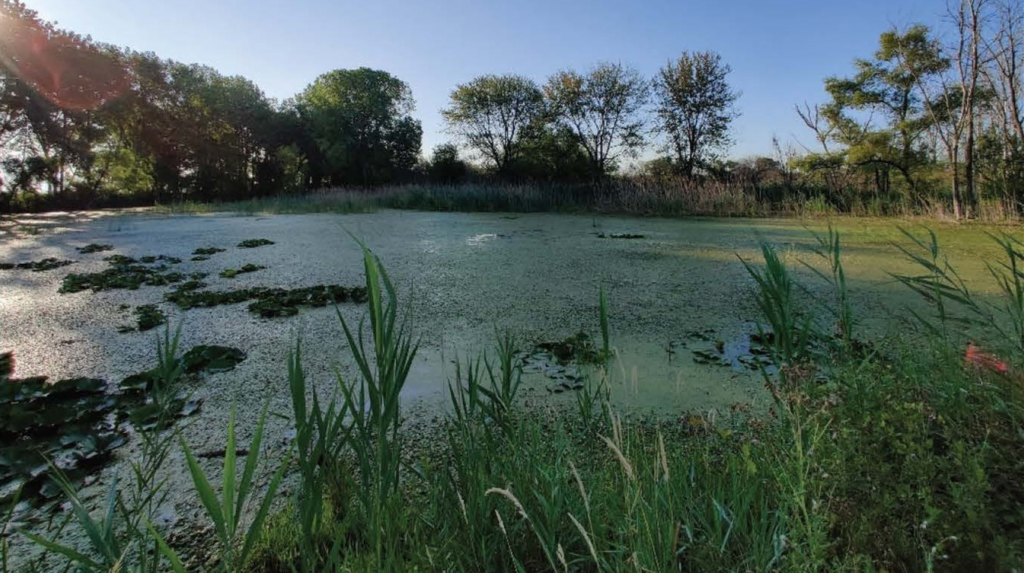 Rockwell Springs Trout Club Fly-Fishing Day
"In our family, there was no clear line between religion and fly fishing."
— Norman Maclean, A River Runs through It
What is it that captivates and beguiles the fly-fisher? Find out, as you and two guests join host Keith Burwell, President and CEO of Greater Toledo Community Foundation, for a day-long fly-fishing excursion at the renowned Rockwell Springs Trout Club. From novice to expert, Keith will provide an engaging day as well as all fishing tackle. The day starts with an 8:30 am breakfast; lunch will be provided around noon. Located on approximately 125 acres, about two miles southwest of the village of Castalia, Ohio, Rockwell Springs Trout Club was formed for the relaxation and enjoyment of the trout fly-fisher. Enjoy this delightful spring or summer excursion!
Donated by Keith Burwell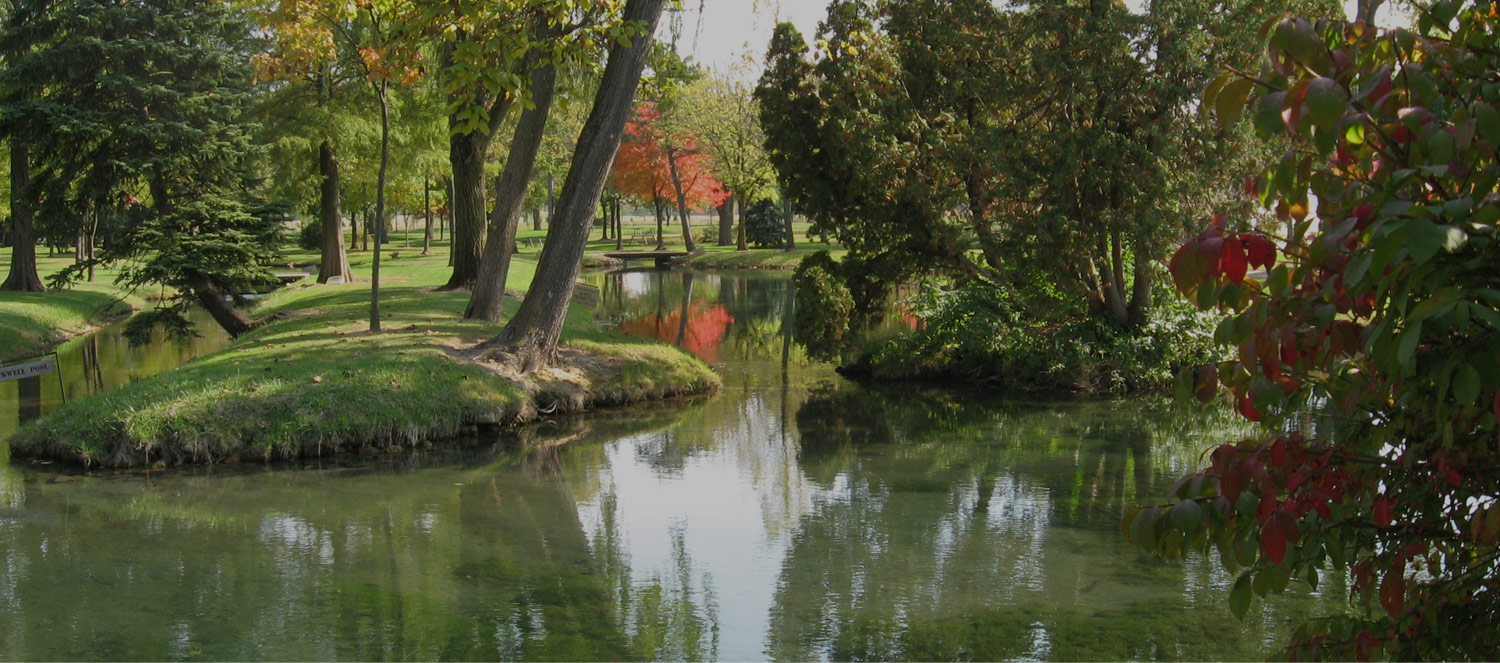 A Day at Rusted Mare Farm
Choose your own adventure with this eclectic auction package offered by Baker O'Brien and Cheri Budzynski.
For you and your five guests, the basic package starts with a "cook's tour" of the world-famous Labino Studio, located on the Rusted Mare Farm near Grand Rapids, Ohio. During this tour, Baker will explain the various processes involved in creating her artwork — not only the uniquely colored Labino glass but also the colorful monotypes from glass plates and the wide range of custom jewelry that Baker also creates. This tour is where Art meets Science! Glassblowing demo included.
You will also receive a $50 gift certificate for the Wild Side Brewing Company, an American farmhouse brewery and restaurant in downtown Grand Rapids.
And here is where this package gets even more interesting! As you increase your bid, more options become available to you:
Acquiring the glass blowing demonstration art piece.
Receiving your choice of freshly baked bread or pizza, hand-made by Cheri.
Guided tours with Greg Carson of the Carson Family Wetland & Oak Savannah and the Henry-Wood Sportsman's Alliance Preserve (established in partnership with the Conservancy), showcasing their in-progress restoration projects.
Bread baking and the science of sourdough; including a sourdough starter for you to take home!


Bid high and win this entertaining and unique adventure with Baker and Cheri at Labino Studios and Rusted Mare Farms! Visit to be arranged at a mutually convenient time.
Donated by Baker O'Brien and Cheri Budzynski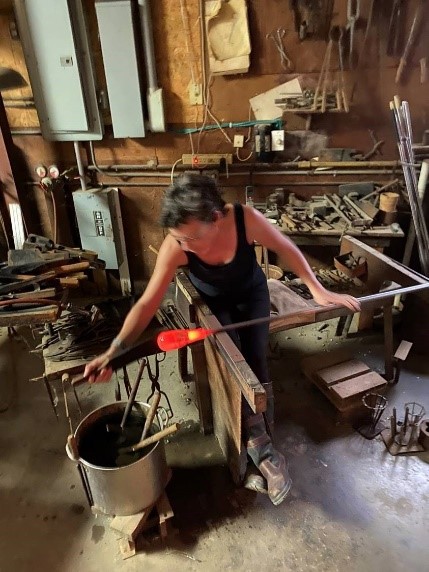 Whitewater Rafting and Appalachian Trail Backpacking Experience
Explore the mountains and rivers of western North Carolina on this amazing adventure! Spend your first day whitewater rafting 9 river miles on the French Broad River. And if that doesn't scratch your adventure itch, we'll spend the next two days hiking on the Appalachian Trail. We'll cover 16 miles of the AT along an incredibly scenic section of trail overlooking the French Broad River valley. Enjoy scenic views, interesting rock features, river views, and get a 360-degree view from the Rich Mountain lookout tower. This adventure will give you the perfect experience of paddling and backpacking you've been looking for!
Please note that this overnight adventure is scheduled for Thursday, September 8, 2022 through Monday, September 12, 2022.
All equipment, camping permits, and transportation are included. Backpacks, tents, sleeping bags, pads, stove, and cook sets are available to borrow. Meals are not included.
Donated by Metroparks Toledo