Notes from the Field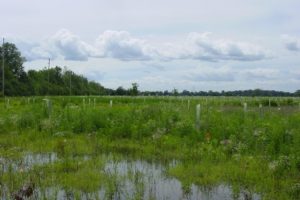 This Notes from the Field is coming from very far afield… North Carolina! I'm in Raleigh at the Land Trust Alliance's annual conference, RALLY.
The Land Trust Alliance provides resources and services (and accreditation!) to land trusts like Black Swamp Conservancy. At RALLY, we get to meet and talk to staff from other land trusts across the country, and it's so inspiring to experience how we are part of a huge community of more than 1,400 land trusts, collectively protecting more than fifty million acres across the country.
I love learning about how other Land Trusts work and hearing about how they come up with innovative solutions to problems that we have in common. At this year's RALLY, I'm focusing on workshops and presentations about Water Quality and Climate Change. Land Trusts everywhere are major players working to solve these crucial issues since Land Protection and Habitat Restoration are critical to Water Protection and Climate Resilience.
Sometimes, learning about the damage to and threats facing our natural world can be disheartening. But being at a conference of professionals working toward the common goal of land protection quickly spins my feelings to hopefulness and determination to work on local solutions.
For example, compared to 1970 the USA now has 3 billion fewer birds. Declines have happened in all habitats EXCEPT WETLANDS. Wetland bird abundance has actually INCREASED since 1970. Why is that? Because we've spent billions of dollars and poured gallons of blood, sweat and tears into wetland restoration and protection efforts over the last 50 years.
This trend gives me hope that we can slow down declines in wildlife abundance by committing to large-scale restoration and protection of other habitats, too. Black Swamp Conservancy has worked to protect and restore wetlands and streams and woods all over northwest Ohio, and we're working hard to do more.