NOW HIRING: Land Steward
This field-based position is responsible for invasive species control and property maintenance.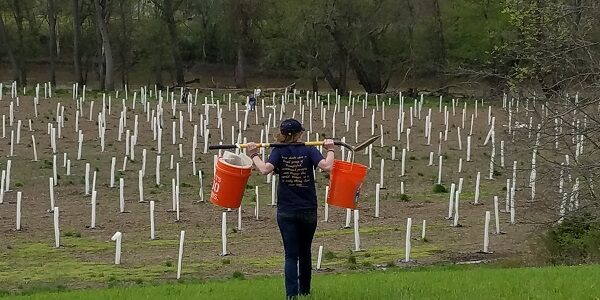 Black Swamp Conservancy is seeking to hire a Land Steward to join a staff of five in protecting the region's natural communities and family farms.
Please respond by submitting a resume, cover letter with salary requirements, and writing sample in Word or PDF format by April 15th to bsc@blackswamp.org. No phone calls please.
Position Profile
Reporting to the Conservation Manager and in collaboration with the entire Conservancy team and its community partners, the Land Steward (Steward) leads Black Swamp Conservancy's ecological management activities.
The Steward is a field-based position responsible for invasive species control and property maintenance, including public use infrastructure. The Steward will both work independently and oversee a small seasonally contracted field crew. This person will also assist with the development of property management plans, conservation easement monitoring and oversight of ecological restoration projects.
Responsibilities & Scope
Oversee and carry out stewardship activities on Conservancy-owned and managed lands, including non-native species control, habitat restoration efforts, fence building and repair, management of facilities and other infrastructure, equipment and vehicle maintenance, sign and trail maintenance, and other management activities. Create and implement and/or update (as appropriate) stewardship and land management plans for select properties or landscapes
Supervise small seasonal field crew. Ensure crew's productivity and safety. Create weekly work plans, in consultation with the Conservation Manager.
Complete annual monitoring for the majority of the Conservancy-owned preserves and assist with compliance monitoring of conservation easements.
Work in variable weather conditions, at remote locations, on difficult and hazardous terrain and under physically demanding circumstances.
This position requires frequent travel within northwest Ohio and may require working evening and weekend hours.
Operate outdoor tools and equipment. Requires considerable physical exertion and/or muscular strain.
May require long hours in isolated settings under infrequent supervision.
Interact with the public at preserves and restoration sites.
Required Qualifications
At least two years of fieldwork experience, preferably with a land trust, park district or similar conservation organization.
Experience assessing and managing natural habitats, preferably in northwest Ohio or the Great Lakes Region.
Ability to take direction, problem solve, and report back to direct supervisor.
Must be able to obtain related licenses or certifications as required. (e.g., Commercial Pesticide Applicator License).
Available to work before and after normal business hours and on the weekends, as necessary.
Must have valid driver's license.
Preferred Qualifications
Bachelor's degree in natural resource management, restoration ecology, biology or a closely related field.
Knowledge of northwest Ohio flora and fauna.
Ability to operate and maintain various types of equipment in a safe and efficient manager (e.g., ATV, chainsaw, backpack sprayer, and other tools).
Experience and comfort in driving large, non-CDL trucks as well as properly and safely hauling trailers up to 22' in length while laden with materials and equipment.
Experience driving and mowing/cutting with farm equipment such as tractors. The Conservancy owns a John Deere 2025R tractor and related implements.
Experience managing staff and/or volunteers.
Experience drafting and implementing property management plans.
Experience creating baseline documentation reports.
Experience with conservation easement monitoring.
More than anything, Black Swamp Conservancy is looking for …
A highly-motivated, creative, organized, and detail-oriented self-starter with a passion to serve our land conservation mission. The Steward must have strong diplomatic skills and the ability to work both independently and with diverse stakeholders to achieve common goals.
Compensation
Black Swamp Conservancy's office is dog-friendly and located on a protected property south of Perrysburg, Ohio, surrounded by woodlands and prairie. The other Conservancy-owned nature preserves are in Paulding, Williams, Sandusky and Ottawa counties. The Conservancy offers a competitive compensation package including health insurance and retirement match. Salary commensurate with experience.
About The Conservancy
Black Swamp Conservancy is an accredited land trust serving northwest Ohio and the Western Lake Erie Basin.
Black Swamp Conservancy currently protects more than 142 properties covering 19,500 acres and representing some of our region's finest family farms, wetlands, woodlands and other open spaces. Of this, the Conservancy owns eight nature preserves covering 1,100 acres in 5 counties, and several new ones now in process.