Black Swamp Conservancy to Hold Virtual Community Update
Wednesday, March 24, 2021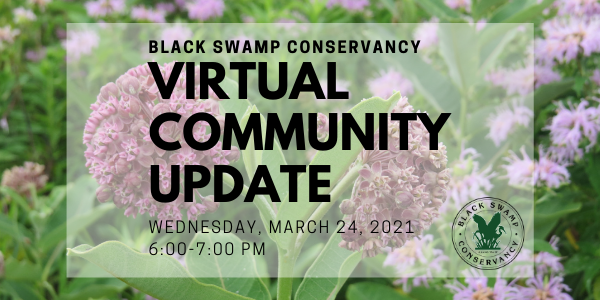 Black Swamp Conservancy is inviting the public to attend a virtual community update highlighting the Conservancy's most recent work.
Join Director Rob Krain and Conservation Manager Melanie Coulter as they share details and stories about important acquisitions and extensive restoration projects, both of which hold far-reaching benefits for northwest Ohio. Plus, get a sneak preview of the work the Conservancy has in store for 2021!
The program will take place on Wednesday, March 24th, from 6:00 pm – 7:00 pm. The event is free and open to the public. Please register here to get the Zoom link.
For additional information, please contact Events & Education Coordinator Laura Rodriguez at lrodriguez@blackswamp.org or (419) 833-1025.
About Black Swamp Conservancy
Black Swamp Conservancy is a land trust dedicated to protecting natural habitats and family farms, now and for future generations. The Conservancy does this to preserve the rural heritage, unique natural habitats, and streams of northwest Ohio.
Since its founding in 1993, the organization has permanently protected more than 19,000 acres of woods, wetlands, and family farms in northwest Ohio. By protecting the region's valuable land and water resources, the Conservancy supports healthy communities with strong, sustainable economies including agriculture and ecotourism.
Donations to Black Swamp Conservancy are appreciated and can be made online here.