Wild and Scenic Riverfront Added to Forrest Woods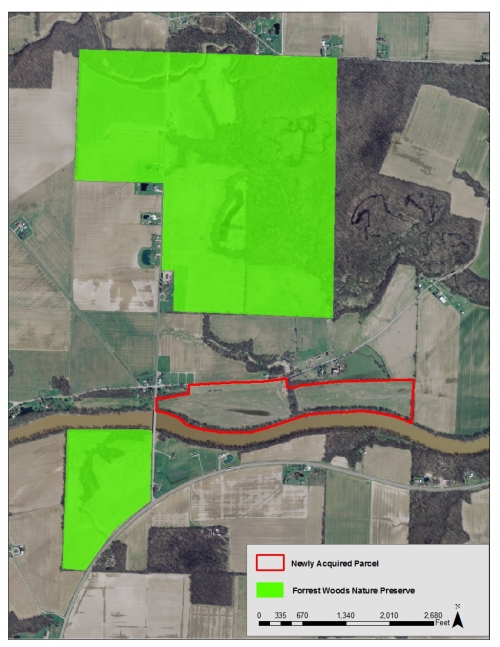 Nestled along a slight bend in the Maumee River is Black Swamp Conservancy's newest property. This recent addition to Forrest Woods Nature Preserve contains ¾ of a mile of river frontage and brings the preserve to 393 acres.
The 48 acre site includes about eight acres of vegetated buffer and windbreaks, the remainder is cropland. "The entire property is the Maumee River's floodplain" says, Rob Krain the Conservancy's Executive Director. "When the Maumee comes out of its banks here, which it does several times per year, sediment and nutrients are washed into the waterway – and contribute to the toxic algae blooms we see in Lake Erie."
The Conservancy is currently developing conceptual designs for habitat restoration at this site, with a long term vision of re-establishing functioning floodplain. This design will help to remove pollutants from the river and reduce flood risks.  We are now applying for grant funding for the restoration, and hope to begin those activities next year.
More than 30 rare, threatened and endangered species have been documented at Forrest Woods, according to Stewardship Specialist Melanie Coulter. "Efforts to expand the existing habitat will benefit wildlife populations and increase diversity."
Once restoration is completed the Conservancy plans to open the property to public use for recreational purposes including hiking and fishing.