We're Hiring: Events & Education Coordinator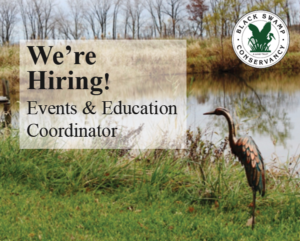 Black Swamp Conservancy is an accredited land trust serving northwest Ohio and the Western Lake Erie Basin.
The Conservancy currently protects more than 135 properties covering more than 17,700 acres and representing some of our region's finest family farms, wetlands, woodlands and other open spaces. We have many active projects in process including regenerative agriculture and large-scale stream and wetland restoration.
We're seeking to hire a part-time Events and Education Coordinator to join our staff in protecting the region's natural communities and family farms.
Please respond by submitting a resume, cover letter with salary requirements and writing sample, in Word or PDF format by September 2nd to bsc@blackswamp.org. No phone calls, please.
Position Profile
Reporting to the Executive Director and in collaboration with the entire Conservancy team and its community partners, the Events & Education Coordinator (Coordinator) joins Black Swamp Conservancy's team. The Coordinator's duties and responsibilities will include:
Outreach and Event Planning
Plan and coordinate outreach and special events including, but not limited to, nature walks, canoe and kayak paddles, and nature photography workshops.
Represent the Conservancy at public events and communicate the Conservancy's work to broad audiences.
Support planning and implementation of the Conservancy's major fundraiser, Bluegrass & Green Acres, held annually in March.
Prepare reports to the committees and board and participates in the Education Committee meetings and other meetings as needed.
Education Program Development & Implementation
Develop and lead education programs that support the Conservancy's mission and initiatives.
Foster partnerships with local schools, camps, and other organizations.
Evaluate and report program outcomes.
Volunteer Development
Assist in development of the Conservancy's volunteer program, including recruitment and acknowledgement of volunteers.
Manage volunteers during work sessions.
Administrative Support
Assist other staff as needed to promote the Conservancy's mission and achieve objectives related to all programs and projects.
Required Qualifications
Experience planning events and / or outdoor education initiatives
An affinity for the outdoors
A dedicated team player with a sense of humor who also works well independently
Available to work before and after normal business hours and on the weekends, as necessary
Preferred Qualifications
Bachelor's degree
At least two years non-profit experience, preferably with a land trust or similar conservation organization
More than anything, Black Swamp Conservancy is looking for …
a highly-motivated, creative, organized and detail-oriented self-starter with a passion to serve our land conservation mission.
Compensation
This part-time position is an average of 15 hours per week depending on Conservancy activities and deadlines. The hours may vary from week to week, but will be relatively consistent.
The Conservancy offers a competitive compensation package including health insurance and retirement match. Hourly wage will be $14-16 per hour, depending upon experience.