We Think You're Kind of a Big Deal
Thank you, thank you, thank you! We can't say it enough.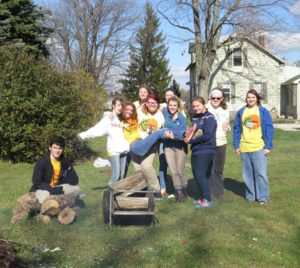 Our dedicated volunteers came through in a big way, and helped to make 2015 a huge year for Black Swamp Conservancy.
If you think we're exaggerating, look at these numbers from last year:
Number of volunteer opportunities = 21
Number of hours spent by volunteers = 700
Value of volunteer hours = $12,250
These hours were spent monitoring water quality, managing invasive species, folding newsletters, checking guests in at our annual fundraiser, and more.
If you were one these generous volunteers – THANK YOU again! If you've never volunteered with the Conservancy but think it might be something you're interested in, here's your chance. With the start of the new year comes many new events, programs, workdays, and special projects.  We would love to see YOU at one of these volunteer days.
Sign up today (follow this link to go to our volunteer sign-un form) and we will include you on our monthly "Volunteer Update" emails. Or, contact Emily by email, or give her a call at 419-833-1025 and let here design a volunteer opportunity that's just right for you.
Together we can make 2016 another huge year.