Walk, Read and Have Fun
Black Swamp Conservancy Presents Three Story Walk Books
Imagine walking with your kids or grandkids on a beautiful summer day – and reading a book at the same time! Black Swamp Conservancy is combining two of our favorite summer activities in a Story Walk program that will be appearing around the region this summer.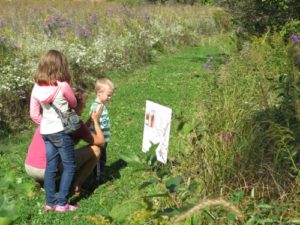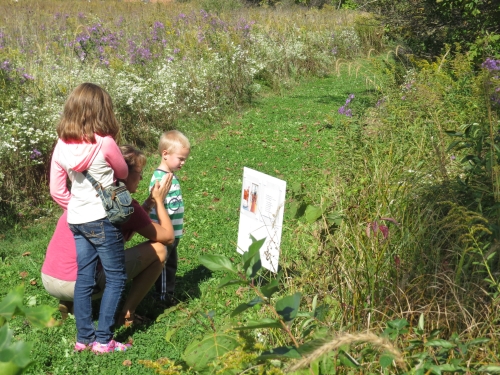 Story Walks promote literacy, physical activity and community involvement. A book is taken apart and mounted (by page or spread) on panels that are posted along a walking trail or path.  Families not only read the book, but also have activities to complete or items to collect along the way. By the end of the program, you have read a book, taken a walk and completed activities together.
The first book in the Story Walk program, "From Caterpillar to Butterfly," by Deborah Heiligman, is being displayed throughout the grounds of The 577 Foundation in conjunction with the Foundation's Monarch Metamorphosis program this summer.  Monarch Metamorphosis was inspired by retired biology teacher Susan Garn and her husband Grant, who have perfected the art of fostering monarchs from egg to flyers over the past several years.
The Story Walk is currently available, free of charge, to visitors during The 577 Foundation's regular hours (daily from 9:00 a.m. to 5:00 p.m.).
The Conservancy will also use "A Seed is Sleepy," by Dianna Hutts Aston, for a Story Walk at the prairie adjacent to the Conservancy's office, 4825 Sugar Ridge Road, Pemberville. That Story Walk will begin July 18 and run daily.
In addition, "A River," by Marc Martin, will be used for a Story Walk beginning  August 7  at Creek Bend Farm, 720 S. Main St., Lindsey. It will be open from 10:00 a.m. to 5:00 p.m. Tuesdays through Saturdays. And "From Caterpillar to Butterfly"  will be presented beginning August 14 at River Cliff Park, 1329 Tiffin St., Fremont, from 10:00 a.m. to 5:00 p.m. Tuesdays through Saturdays.
The three books will be rotated in outdoor settings throughout northwest Ohio. Check the Conservancy's Facebook page (@Black Swamp Conservancy) or here  for dates and locations. This project was funded by a grant from the Seed-to-the-Sower Fund of the Toledo Community Foundation.