Walk in the Woods at Bell Woods is Rescheduled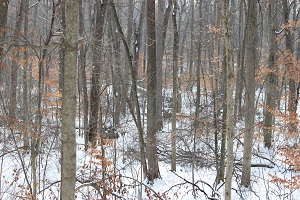 The Winter Walk at Bell Woods has been rescheduled for Sunday, February 16th at 11:00 a.m. (Keep your fingers crossed that the weather cooperates this time!)
Christina Kuchle of the Ohio Department of Natural Resource will lead the group as we explore the winter landscape and wildlife of Bell Woods, which is located at our homestead in Pemberville, OH.
We'll begin our walk from the homestead parking lot and return for hot chocolate around the fire pit near the barn.
This winter walk will take place on rustic, unimproved paths, so please be prepared for the weather and rough terrain. Boots and layered clothing will be best for this free walk for all ages.
To register, please call (419) 833-1025 or email lrodriguez@blackswamp.org.