Transformation Along the Maumee
From a flooded agriculture field to native forested seasonal and riparian wetlands, planning is underway to transform a 48-acre site along the Maumee River in Paulding County. This Conservancy-restored property will ultimately include an expanded habitat for birds, animals and fish, and its woodlands will help reduce the amount of nutrients and sediments entering the Maumee.
The area is the newest addition to Forrest Woods Nature Preserve along the Maumee River. Spring brings annual flooding to this agricultural field (which is currently in row crops). The Conservancy is currently involved in the engineering and design phase of a stream and wetland restoration that will impact the entire area, with improvements to or creation of an ephemeral stream channel and wooded riparian buffer and wetlands, along with reforestation of the entire area.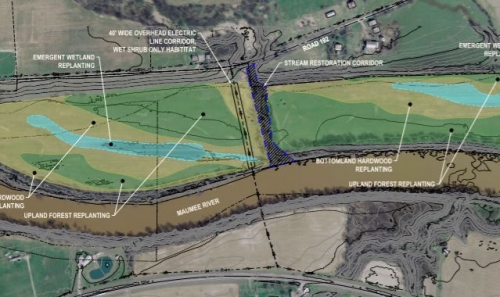 According to Melanie Coulter, the Conservancy's Stewardship Specialist, a portion of this land will be the site of an Earth Day weekend tree planting event. "We're starting the reforestation of this area with the planting of 1,000 trees, beginning on April 21 for Earth Day," she said. Trees are being donated for the project by several area Rotary organizations, in response to a challenge by Rotary International's president Ian H. S. Riseley for all 1.2 million members around the world to plant a tree before Earth Day 2018. The Forrest Woods tree planting will help to stabilize the soil along the floodplain.
The engineering and design of this project are possible through support provided by The Nature Conservancy, the Ohio Department of Natural Resources, Division of Wildlife, and the U.S. Fish & Wildlife Service, with Pittman Robertson Wildlife funding.