The Biggest Little Farm: Film Screening and Panel Discussion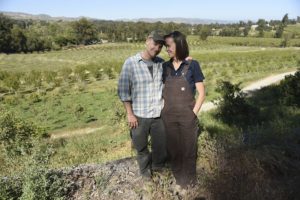 "John, please be careful…," Molly Chester calls to her husband from off-camera as he approaches a Highland cow on their farm in the California countryside.
In 2011, with a dream of harvesting in harmony with nature and their dog Todd in tow, the couple left their jobs and city life to start Apricot Lane Farms.
THE BIGGEST LITTLE FARM chronicles their eight-year quest – fueled by passion and challenged by nature – to turn 200 acres of barren and depleted farmland into a fruitful, well-balanced ecosystem where plants, wildlife and livestock all work together.
Featuring breathtaking cinematography, captivating animals, and an urgent message to heed Mother Nature's call, THE BIGGEST LITTLE FARM provides us all a vital blueprint for better living and a healthier planet.
Black Swamp Conservancy will host a free public screening of the film at 6:00 pm on Thursday, September 19, 2019 at the Maumee Indoor Theatre on Conant Street. Following the film, there will be a panel discussion on the role of ecologically-responsible farming in our local food economy. Danielle Kusner, Certified Crop Advisor (CCA) and an agronomist with The Andersons, will moderate the panel of local experts, including:
Michael Schiewer, owner and farmer of Herbaceous, Ltd. and Black Swamp Food & Farm participant
Maureen Brogan, owner of The Original Sub Shop
Sean Fitzgerald, manager of local grocery Phoenix Earth Food Co-Op
Several local farms will have displays where attendees can meet the farmers, learn about their practices, and sign up for Community Supported Agriculture (CSA) shares.
Check out the film trailer below and make plans to join us for the event!