Storywalk! Wednesdays in October at the Conservancy Homestead
The Pemberville Public Library in partnership with the Black Swamp Conservancy will be presenting a Storywalk on the Prairie trail at the Black Swamp Conservancy Homestead every Wednesday in October.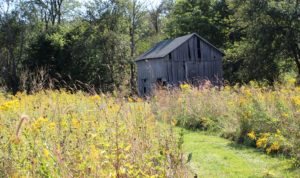 StoryWalk is an innovative and fun way for families to enjoy reading and the outdoors at the same time. Laminated pages from a children's book are attached to signs posted along an outdoor path. As participants follow the trail, they are directed to the next page in the story.  The selected book is "The Little Old Lady Who Was Not Afraid of Anything" by Linda Williams with illustrations by Megan Lloyd. Each sign will include activities that result in a completed project at the end of the trail.
The Black Swamp Conservancy Homestead is located at 4825 Sugar Ridge Road, across from the Eastwood Middle School. Parking is available at the Homestead.  The prairie trail is an unpaved trail, so jogging strollers are suggested for babies.  The Storywalk will be available from 9:00 am until sunset. No registration is required.
The StoryWalk Project was created by Anne Ferguson of Montpelier, VT and developed in collaboration the Kellogg Hubbard Library. StoryWalks have been installed in 48 states and five countries, Germany, Cananda, England, Bermuda and Malaysia.
For more information, contact Sarah at the Conservancy by email here or by phont at 419-833-1025.