See Our World – Be a Monitor!
Do you like walking in the fields and woods on a beautiful fall day? Are you passionate about maintaining the important responsibilities of a land trust? Then do we have an opportunity for you …
The Conservancy's monitors have the important responsibility of ensuring that our agricultural and conservation easements are protected. Monitors visit nearly 100 of the Conservancy's properties each fall, walking the property and taking count of the condition of the area. Many monitors will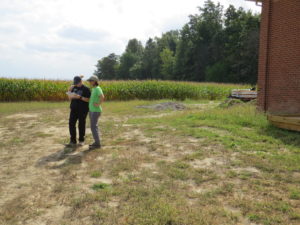 photograph sections of a property, and it often provides the setting for some spectacular photos.
Regular monitoring not only ensures the conditions of the easement are being maintained, but builds and maintains a continuous relationship with the landowner. It's a very important step in protecting our properties in perpetuity.
If you're interested in participating in our monitoring program, contact Stewardship Specialist Melanie Coulter at mcoulter@blackswamp.org or at 419-833-1025. Trained monitors can participate this fall, and we'll put together a training program for new monitors.