Sawyer Quarry Nature Preserve: A Park Set on Stone
Tucked away on the edge of the I-75 corridor in Perrysburg Township is one of Wood County's hidden treasures in the form of 60 acre Sawyer Quarry Nature Preserve. This refuge offers respite from the hustle and bustle of the surrounding area while you take in a variety of ecosystems, from oak/hickory and maple/elm forests to the rugged alvar-like quarry bottom. Sawyer has something to offer to nature lovers year round.
Once known as the worst road in the country, the "mud pike" was a stone's throw from here.  This quarry may have had its beginnings when rock from this area was dug out and crushed in the 1830s to macadamize, or pave, what was then the Western Reserve Road, now S. R. 20. In 1842, rock was also quarried and carved into triangular posts that were erected as milestones between Perrysburg and Lower Sandusky (now Fremont).
Sawyer Quarry is named after the Sawyer family, who, in 2014, donated the land that became the preserve to Black Swamp Conservancy and the Wood County Park District. In 1883, Charles Henry Sawyer, one of Toledo's pioneer quarrymen, purchased 110 acres at Lime City Road and Route 20. On this site Sawyer quarried limestone which was used in the Toledo's glass production. Limestone was blasted and loaded into mule drawn carts and transported out of the Quarry on train tracks. Once at the surface, the limestone was placed either in a crusher to produce more uniform pieces for transport to the area glass or building supply manufacturers, or heated in a kiln to produce limestone ash for cement. Some remnants of the tracks, crushers and kilns can still be found on the property.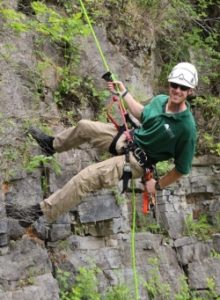 In 1891, Charles Henry Sawyer employed his brother-in-law, Walter B. Scott (who was married to Charles' sister Elizabeth), and together they formed the Lime City Company. In 1901 the Lime City Company sold a small strip of land that ran from the northeast corner to the southwest corner of the property to the Ohio Central Railway Company, where active train service still runs today. Although an exact date is not known, the Quarry began to fill with water. It is believed that the quarrying activities continued, but expanded encompassing greater surface area rather than running deeper. It is not known exactly when active quarrying ceased, but it is believed to have been during the Great Depression or at the time of Charles Henry Sawyer's passing in 1932. In 1955, John B. Sawyer and his siblings sold the property east of the railroad tracks, which today is an active limestone quarry. Today the quarry is dry as the incoming water has been diverted to another quarry.
After 131 years and five generations, the Sawyer family (Ann B. Sawyer  and on behalf of  her late husband, Charles, and their children) donated this treasured and historic family retreat to the Black Swamp Conservancy and the Wood County Park District. The park opened in the fall of 2016.
Today there are two main areas to explore: the upland woods and the quarry pit area. The improved trail loop departs from the parking lot and takes you into what was once in a "better-drained transition" oak-hickory swamp community in the heart of a larger elm-ash swamp forest with some white elm, black and white ash, and red and silver maples. Bur and red oak, shellbark hickory, and basswood would have dominated "enriched" areas like this, also containing swamp white, pin and white oaks. Chinquapin Oak and Redbud trees are especially happy in these alkaline, rocky soils. Look for the especially grand Chinquapin and Bur Oaks near the curve along the trail.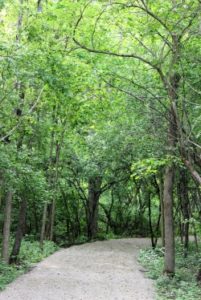 In the spring, woodland "ephemeral" wildflowers abound. Enjoy Toadshade trillium's unique upright, maroon petals during its extra-long blooming season.  The mottled reddish-green leaves might remind you of a toad.  Other spring wildflowers are also plentiful, like bloodroot, rue anemone, cut-leaved toothwort, to name a few. In the spring and fall the woods play host to the migrating Yellow-bellied sapsuckers, which will drill horizontal lines of round sapwells into the trees. You can see evidence of their sap farming, year round on the tree trunks. The summer forest chorus includes many of the common woodland birds including great crested flycatchers, wood thrush, and eastern phoebes. One feature that sets Sawyer apart from our other Wood County Parks is the sheer amount of moss and lichen covered bedrock, boulders and wall faces that are accessible to be viewed throughout the park. While you're looking down and around don't be surprised to see a dekay's brownsnake or eastern garter snake, as they are plentiful in the preserve.
There are large sturdy stairs to access the quarry itself behind the big house. Keep your eyes open to spot beautiful red wild columbine, which grows in cracks on the upper quarry cliff walls and blooms late spring and early summer. Take the opportunity to explore the quarry area as you want; there are no set trails inside it as of yet. The quarry is mostly dolomite stone.  Few fossils are found in good condition since the dolomite rock formed when magnesium carbonate replaced calcium carbonate in limestone and mostly obliterated fossilized remains in the process.  Stromatolites and ghost fossils may be found. Blue calcite, celestite, dolomite and other rocks and minerals have been found here.  Plus there are interesting cavities and veins in rocks, called vugs, which often encase crystals of quartz, calcite and other minerals.
The quarry is also home to some options for outdoor recreation. There is a self-registration kiosk for repelling with your own equipment. There is also a rock wall face specifically for the sport of bouldering. The Wood County Parks adventure staff holds open bouldering programs spring through fall, so if you want to learn a new skill then sign up. This young park is still under development and will see new trails established. An existing building was re-purposed into a visitor center with modern restrooms, and more interpretative signage in the natural areas is promised in the future.
Check out Sawyer Quarry Nature Preserve any day of the year from 8:00am to a half-hour after sunset. If you find something interesting let us know through social media on our Facebook page or through our wcparks app on android and iphone. We are still learning about all the flora and fauna living and using the park and would welcome you help in that quest. Also check out our program offering in all of our parks on our website wcparks.org or through our Oak Leaf program guide found at the informational kiosks in our parks. Hopefully see you on the trail soon!
(Thank you to Bill Hoefflin, Senior Program Naturalist, for this story published in the Wild Ones' June newsletter. Also, thank you to the Wood County Park District and Andrew Cole  for use of the photographs.)