Protecting a Headwater Wetland
At the upper reaches of the Lake Erie watershed, near Fort Wayne, Indiana, the St. Joseph River converges with the St. Marys River to form the Maumee. Upstream of that, the Conservancy is making plans to protect a critical piece of that region, while continuing the natural history on the property.
The Conservancy's St. Joseph Wetlands project occupies 146 acres along both banks of the St. Joseph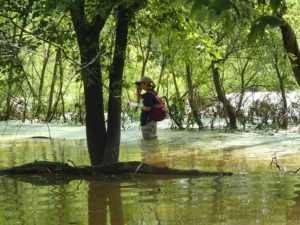 River in Williams County.  We received grant approval from the Wetland and Riparian Resource Sponsorship Program of the Ohio EPA, and have recently completed wetland surveys to assess and describe the wetland resources on the property. We have also completed a management plan for the area.  In 2019 we will purchase this property, and should begin protection efforts after that.
This property contains the highest quality of wetlands, referred to as Category 3. It runs along a mile-long section of the river, which drains counties in Ohio, Michigan and Indiana. The preservation of this high quality wetland will protect  water quality, moderate flooding and bring important plants and animals back to the region.  This area is an important habitat for the federally-threatened Copperbelly water snake and federally endanger species Clubshell mussel.
In addition to the 146 acres the Conservancy is buying, the landowner is retaining 23 acres for the continued harvest of maple syrup, and will donate an easement to the Conservancy.