Request for Proposals St. Joseph River Wetland Restoration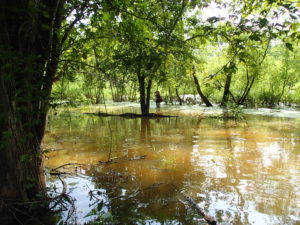 The Black Swamp Conservancy is seeking proposals for a design-build wetland, floodplain, and channel restoration project on the 94-acre St. Joseph River Floodplain and Woods in Williams County, Ohio.
The objective of this Project is to design, engineer, permit, construct and plant a restoration project that will restore wetlands, floodplain, and forest on the Site and reduce nutrient and sediment runoff from the ditch that traverses the Site. The minimum Project requirements are to:
Increase nutrient uptake
Reduce sedimentation and erosion
Increase wetland habitat
Improve waterway and riparian habitat
Questions must be received by May 7, 2020. Not later than May 8, 2020, the Conservancy will distribute all questions received and its responses to those questions to all firms that have expressed an interest in submitting a proposal.
All firms interested in submitting a proposal and being included on the question and response distribution list should notify Elisabeth Anderson by email at eanderson@blackswamp.org.
Submissions, including submissions that are mailed or shipped to the above P.O. Box, must be received no later than 4:00 pm on May 21, 2020. Proposals received after this date will not be accepted.
The Conservancy expects to award the contract on June 5, 2020.