Projects to Improve Sandusky River Access
Two Conservancy projects are focusing on improving Sandusky River quality in the Fremont, Ohio, area, while offering residents a natural wildlife habitat and a public park.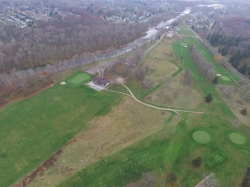 The former River Cliff Golf Club was acquired by the Conservancy through the Clean Ohio Fund, and was gifted to the Sandusky County Park District for conversion to parkland and improved river access.
The 80-acre property features a wooded area along the river that provides habitat for many birds, mammals, reptiles and amphibians, including an active Bald Eagle nest. Restoration will expand the habitat, as well as improving habitat of the river for fish.
The 78-acre River Redhorse Bend property consists of a 66-acre farm with 16 acres of forest and wetlands. The farmland will be returned to a more natural state to create more access to the Sandusky River. Acquisition of this property helps to protect rare habitats with wetlands while enhancing the community's connection to the area.
Both properties are along the river, and both will benefit greatly from wetland restoration and efforts to improve the water quality of the Lake Erie Watershed. They'll also serve as strong educational tools about land use along waterways.
The property will demonstrably improve water quality along the Sandusky River, while expanding nearby wildlife habitat. In addition, the Conservancy will be able to measure these improvements over time. In the meantime, the Sandusky County Park District will do what it does best, by planning and restoring the sites for public access.