Preserving Four Generations
The Schetter Farm, near Fostoria, Ohio, has spent eight decades in wheat, corn and soybean production, and before that as a cattle farm. But it's also been home to four generations of the Schetter family, with the prospect of more generations on the property in the future.
It's also among the northwest Ohio farmland protected by Black Swamp Conservancy. An initial 80 acres were protected by a conservation easement in 2003, and the remaining 105 acres of the family's farm were recently added. In addition to farmland, the property contains meadows and grassland areas providing habitat for wildlife and protection from soil erosion.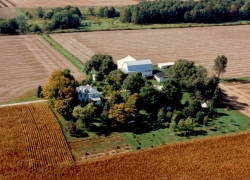 "My family has always shared conservation values," said Tom, "so it was a natural next step for the remaining acreage of the property to go into the easement."
Two objectives have driven the family's easement of the property.  "First, we wanted to make sure the land is remaining farmland," he said. "Next, because a branch of the Portage River runs through the property, we wanted to return the areas along the stream back to natural habitat to protect the watershed."
Tom Schetter's grandparents were the first on the property, settling there in the mid-1930s. Tom mixed farming with a teaching career. And as part of the easement, a two-acre portion of the property is reserved so the next generations can build a home there. And the property has also inspired son Tim to pursue a career in natural resources – he is Director of Natural Resources with Metroparks Toledo.
"This has always been my family's home," said Tom. "It's nice to know that it won't change. But it's also very important that the habitat will endure to support plant and animal life for the future."