Menu for 2020 Bluegrass & Green Acres Event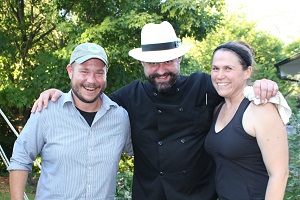 *Update on 3/12/2020
We're disappointed to report that Black Swamp Conservancy's Bluegrass & Green Acres celebration, scheduled for tomorrow evening, March 13th, is being postponed.
Out of concern for the health of those who are planning on attending and volunteering – and the entire community – we feel that it is best to follow the guidance of the Governor's office and local health officials.
Thank you for your understanding of these difficult and unforeseen circumstances.
Bluegrass & Green Acres remains an important event, both for celebrating our conservation successes and for raising critical funds for the Conservancy's mission. We will be in touch with you as new plans are developed.
Anyone with immediate questions or concerns is encouraged to reach out to the Conservancy at 419.833.1025.
Thank you so much for your ongoing support.
Chef Ian Regent has planned a delightful menu for our 2020 Bluegrass & Green Acres event.
This year's event will be held at the ProMedica Steam Plant in downtown Toledo on Friday, March 13. The evening will feature down-home food, unique nature-inspired auctions and live performances by internationally touring roots musician Woody Pines. Beer and wine is included in your ticket price.
Check out the mouth-watering menu below and get your tickets now, before the early bird price of $75 expires on March 1st!

2020 Bluegrass & Green Acres Menu
Arancici di Riso
Fruit and cheese board with imported and locally produced cheeses
Mushroom and chickpea bruschetta with grilled toast points
Ancient grain salad with farro, quinoa, roasted squash, and vinaigrette-dressed fresh greens
Loaded baked potato pierogi with a sour cream sauce and veggie garnish
Mac and cheese featuring house-made pasta
Cobb salad wrap skewers
Banh Mi sliders - roasted pork and pickled vegetables dressed with Asian-inspired vinaigrette
Hand-crafted charcuterie board
Smoked salmon platter
Coconut chicken satay with house-made plum sauce
Chocolate and confetti cake lollipops
Pecan pies with homemade whipped cream
Assorted cookies including lemon raspberry and cherry cordial
Garnished chocolate mousse spoons