Meet Nashville Troubadour Woody Pines
Performing Live Concert at 2020 Bluegrass & Green Acres Event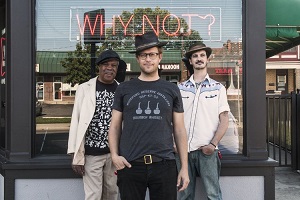 *Update on 3/12/2020
We're disappointed to report that Black Swamp Conservancy's Bluegrass & Green Acres celebration, scheduled for tomorrow evening, March 13th, is being postponed.
Out of concern for the health of those who are planning on attending and volunteering – and the entire community – we feel that it is best to follow the guidance of the Governor's office and local health officials.
Thank you for your understanding of these difficult and unforeseen circumstances.
Bluegrass & Green Acres remains an important event, both for celebrating our conservation successes and for raising critical funds for the Conservancy's mission. We will be in touch with you as new plans are developed.
Anyone with immediate questions or concerns is encouraged to reach out to the Conservancy at 419.833.1025.
Thank you so much for your ongoing support.
The highlight of our 2020 Bluegrass & Green Acres event will be a live concert performance by Nashville troubadour Woody Pines.
The event will be held at the ProMedica Steam Plant in downtown Toledo on Friday, March 13 starting at 6:30 p.m.
Prior to the event, we'll host a special reception in ProMedica's History Museum Hallway, where guests will enjoy a meet and greet with Woody Pines. Tickets for the reception and event are $100, and they're going fast. Get yours today!

About the Artist
Woody Pines cut his teeth on the streets as a professional busker, drawing liberally from the lost back alley anthems and scratchy 78s of American roots music.
He traveled all over the streets of this country road testing his songs, drawing from the catchiest elements of the country blues, jugband, hokum and hillbilly music he loved, and adding in hopped-up vintage electrification to get that old country dancehall sound down right.
In Woody's music, there's never an idea that roots music should be a recreation of an older time. Instead, he taps the vein of this music that's still beating today, finding common ground with the old hucksters and bar-hounds who created the music in the first place.
You definitely don't want to miss this performance!