Local Land Named "MVW"
Black Swamp Conservancy's Forrest Woods Nature Preserve was recently named the Society of Wetland Scientists first ever Most Valuable Wetland as part of their "Wetland Treasure" program. The program features and highlights wetlands that exhibit exemplary function and service.
The mission of the Society of Wetland Scientists is to promote understanding, conservation, scientifically based management, and sustainable use of wetlands throughout the world. The "Wetland Treasures" initiative was developed to help the public understand the important functions and values of these unique ecosystems.
As part of the initiative, the Society has created an online showcase of top-tier wetlands that will be used to promote awareness, appreciation, and knowledge of some of the country's most ecologically sensitive landscapes. The Society chose the Conservancy's Forrest Woods Nature Preserve in Paulding County as the first property to highlight.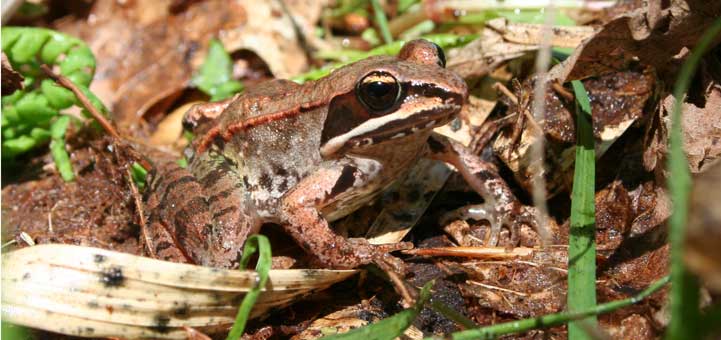 Forrest Woods Nature Preserve, which is owned and managed by Black Swamp Conservancy, is one of the highest quality remnants of the Great Black Swamp that once covered approximately 1,500 square miles of northwest Ohio and northeast Indiana. The property is home to more than 30 rare, threatened, and endangered plant and animal species including Four-toed Salamander, Leafy Blue Flag, and Cuspidate Dodder. The site provides a number of amphibian breeding pools for sensitive species like Four-toed Salamander and Wood Frog.
Forrest Woods also provides a number of ecosystem services to northwest Ohio due to its location in the Upper Maumee Watershed. The preserve is located near the confluence of Marie DeLarme Creek and the Maumee River, which has the largest watershed feeding any of the Great Lakes. The area upstream of Forrest Woods is primarily in high-intensity agricultural production which contributes nutrients to the watershed. The location of Forrest Woods and the wetlands within slow down the flow of water and filter those nutrients out before they reach the Maumee River, and ultimately Lake Erie.
Black Swamp Conservancy is currently working on a large-scale restoration project at Forrest Woods which will further enhance the preserve's contributions to clean water. A public meeting is planned for Monday, July 11th beginning at 5:30 p.m. at the Black Swamp Nature Center (753 Fairground Drive, Paulding). Conservancy staff will be on hand to update the community on the project, answer questions, and obtain feedback.
More information about the Society of Wetland Scientists and its "Wetland Treasures" initiative can be found at WetlandTreasures.org.