Visit Little Auglaize Wildlife Reserve June 8
Get a Peek at Black Swamp Conservancy's Newest Preserve
The Little Auglaize Wildlife Reserve is opening for the first time to the public on Saturday, June 8, from 10:00 a.m. to 1:00 p.m., unveiling a rare natural habitat that boasts 1 ½ miles of frontage along the Little Auglaize River.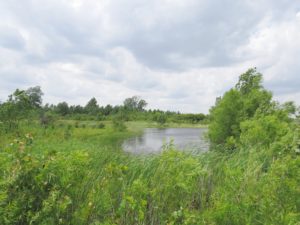 The 226-acre property was acquired by Black Swamp Conservancy, with funding from the Clean Ohio Green Space Conservation Fund and The Conservation Fund's Ohio Forested Habitat Fund*. Designated a sensitive species area, the property is home to pheasants, chorus frogs, painted turtles, river otters and Indiana bats (a federally endangered species), as well as 48 species of birds identified during initial surveys.
The June 8 event is designed to introduce neighbors and the community to the Reserve. Brad Dysinger, a previous landowner who restored a section of the property, will lead walks through wetlands and native plant communities of the restoration area, with a focus on the wildlife native to the property. Visitors can also take a self-guided walk along a path that leads to the Little Auglaize River. Maps of the property, its history and restoration, will be on display, and representatives of local conservation organizations will participate. The Reserve is located at 4499 Road 197 in Cloverdale; parking is near the home on the property.
The Reserve was farmed as recently as 30 years ago, but in the 1990s, landowner Dysinger started restoring wetlands and native plant communities there. The property is near the North Country National Scenic Trail of the National Park Service, and the 1,444-mile Buckeye Trail.
A first step in the Conservancy's plan to restore the Reserve is to eradicate invasive species. Long term, the Conservancy will increase habitat for species already using the property, as well as migratory birds and other locally important species, and increase the amount of forested areas on the property to over 100 acres. This will enhance the wetland along the river, filtering the water entering there and flowing into the Maumee River and Western Lake Erie.
There are also plans to create public outdoor recreation opportunities, such as hiking trails (including further guided nature walks), birding, fishing, kayaking, hunting and other non-intensive activities that will showcase the beauty of this spot along the river.