Interested in Farming? Talk to us!
Black Swamp Food & Farm Initiative Seeks Aspiring Farmers
PERRYSBURG, Ohio – The Black Swamp Food & Farm Initiative is looking for the next generation of Ohio's farmers, to help them knock down some of the barriers that are keeping them from the land.
Through this initiative, Black Swamp Conservancy will use long-term lease agreements to provide affordable access to farmland. The initiative will also help to connect aspiring farmers to the services and partners they'll need to establish sustainable farms. The initiative is funded by grants from Toledo Community Foundation and the Stranahan Foundation.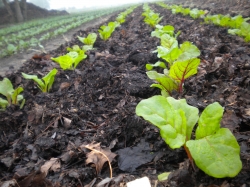 The result is new farms that grow profitable and ecologically sustainable food for local consumption. This protects prime agricultural land, improves water quality and natural resource conservation, and provides healthy food for the community.
"This program will help produce healthy food for northwest Ohio communities using ecologically sustainable methods that protect water quality and create healthy communities," said Chris Collier, the Conservancy's conservation manager. "Our vision is to work with the next generation of farmers to show how agriculture and habitat conservation can coexist to produce bountiful food and protect valuable resources, while also creating strong, local economies."
The Black Swamp Food & Farm Initiative is now accepting applications from individuals interested in starting or expanding a farm in northwest Ohio. Applicants will be asked to submit a letter of intent that includes their vision for the farm, and a resume detailing agricultural experience and any other skills that will help running the farm.
To learn more about the initiative, contact Collier at 419-833-1025 or ccollier@blackswamp.org.
Download the Request for Proposal here.
Photos courtesy of Friendship Farms CSA.