Healthier Streams, Cleaner Water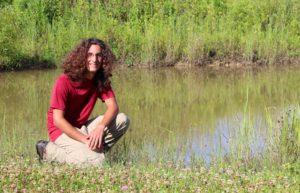 Clean water is an issue that affects us all. We are  excited to be taking the important first step of monitoring the water quality at our Forrest Woods Nature Preserve. This information will help improve the habitat at the Preserve and also help communities across northwest Ohio address water issues.
The Conservancy formed a partnership with Bowling Green State University which has allowed us to conduct a more rigorous sampling plan than initially intended. The BGSU Department of the Environment and Sustainability has graciously provided us with specialized sampling equipment as well as two interns – Megan Burton and Michael Dages.
Megan and Michael have been taking weekly measurements for nitrogen and phosphorous concentrations as well as other water quality parameters at various locations. Along with the Marie DeLarme Creek, testing is taking place at the two ditches in which the Conservancy is in the process of restoring. They will obtain baseline data that will be used to evaluate the success of the restoration project.
This project will take several years to complete, but we are pleased to be taking this first step.