Heal the Earth – Plant a Tree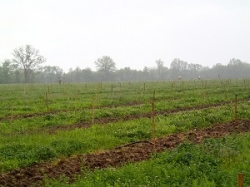 Last July, Rotary International's incoming president Ian H.S. Riseley challenged all 1.2 million members around the world to plant a tree before Earth Day 2018 on April 22.
The Toledo Rotary Club has taken that challenge seriously, and committed to providing funding for the Conservancy to plant 500 new trees at Forrest Woods Nature Preserve. Other Rotary Clubs have taken up the challenge, with the result being a massive tree planting day.
On Saturday, April 21, beginning at 10:00 a.m., we're celebrating Earth Day at Forrest Woods Preserve with the tree planting, as well as two nature walks. Thanks to tree donations from Toledo Rotary, Perrysburg Rotary, Waterville Rotary, Reynolds Road Rotary, St. Francis Interact and others, we'll begin planting 1,000 trees in an area of the preserve near the Maumee River that experiences frequent flooding. In addition, two walks will be held during the day: one through the 2017 stream and wetland restoration area and another into the deep woods. Refreshments will be available at nearby Bethel United Methodist Church.
Trees remove carbon dioxide and other greenhouse gasses from the air, slowing global warming. In a wetlands environment, they decrease runoff and increase groundwater flows by increasing infiltration and below-ground storage, reduce sediment loads and reduce thermal shocks to streams through their cooling effects on surfaces and air. Forrest Woods, which was purchased by the Conservancy in 2016, is farmland that will be converted back to functioning floodplain and streamside forest. "This activity is a start to the complete restoration of that field," explained Melanie Coulter, the Conservancy's Stewardship Specialist. "It's a floodplain area, and the tree planting will help to stabilize the soil."
Trees will be matched to the old growth woods found at the preserve, to mimic natural selection. Trees will include oak, hickory, cottonwood, sycamore, paw paws and more. They'll be in keeping with the 22,000 trees planted last spring in that area, which included more than 30 native species.
Please arrive at Bethel United Methodist Church, 8019 Rd. 192, Cecil, by 10:00 a.m. Saturday, April 21. Dress for the weather and working in the fields, and bring your own water bottle.
Below are directions to Forrest Woods Nature Preserve; read a story about the event by reporter Matt Markey  in the April 13, 2018,  Toledo Blade.