Have You Ever High-Fived a Turtle? Hands-On at the Wildlife Festival
Hundreds of families gathered for a wildlife festival at Toledo Botanical Garden earlier this month to celebrate and explore some of the creatures that live in our community. The event gave kids an opportunity to view and at times have a hands-on experience with a variety of animals. Attendees experienced: baby mink, ducklings, owls, hawks, turtles, rabbits, chipmunks and many others throughout the day.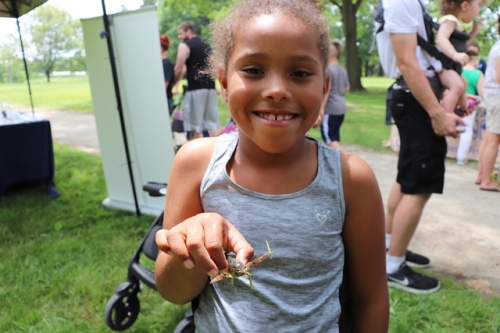 After exploring the patterns on the painted turtle and cheering on their favorite in the crayfish race, kids had the chance to paint with mud, an eco-friendly media and a positive nature-related experience, without "getting dirty" as the main objective.  One parent commented that she "can't get my child to step foot in the woods behind our house. She avoids mud and puddles, but here she is painting with mud and holding crayfish. I think we will start trying different approaches to nature at home".
At Black Swamp Conservancy's station visitors had the opportunity to be hold crayfish and a baby Midland Painted Turtle. These aquatic species helped us to open the conversation about the importance of clean waterways, educate on species that indicate water quality and provide youngsters a positive experience with creatures that lack the cuddle appeal.
The day was filled with many young people excited about all of the wildlife based activities and stations at the event. Stewardship begins at an early age. If a child is engaged with nature they are far more likely to care for it, both in their youth and as adults.
Thank you to Nature's Nursery for hosting this great community event and for inviting the Conservancy to participate.