Growing New Farmers in Northwest Ohio
Interest is building among northwest Ohio aspiring farmers to participate in the Conservancy's new Black Swamp Food & Farm Initiative. The Initiative will use long-term lease agreements to provide affordable access to farmland, along with connecting aspiring farmers to the services and partners they'll need to establish sustainable operations. The Initiative is currently accepting applications from individuals interested in starting or expanding a farm in the region.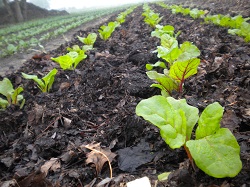 "We've had almost a dozen people contact us about their interest in the Initiative, in only a week since we announced the request-for-proposal," explained Chris Collier, the Conservancy's conservation manager. "We're exploring their ideas for farm management and sustainable farming, and then will identify properties that can meet those needs, while lending to sustainable farming practices."
The Initiative is being funded by generous grants from Toledo Community Foundation and the Stranahan Foundation to establish farms that grow profitable and ecologically sustainable food for local consumption. The Initiative will protect prime agricultural land, and improve water quality and natural resource conservation.
Interested applicants can submit a letter of intent that includes their vision for the farm, and a resume detailing agricultural experience and any other skills that will help running the farm. To learn more about the Initiative and apply, access the RFP here or please contact Collier at 419-833-1025 or at ccollier@blackswamp.org.
The Black Swamp Food & Farm Initiative has recently been the subject of several news stories, both locally (with a Rob Krain interview on WTOL-TV, Toledo's Your Day, and in a story on WTVG-TV) and in Farm & Dairy magazine.