Funding Approved for St. Joseph River Wetlands Project
The Conservancy's St. Joseph Wetlands project, a beautiful 146-acre property along both banks of the St. Joseph River in Williams County, Ohio, recently received grant approval from the Wetland and Riparian Resource Sponsorship Program (WRRSP). It's an exciting project in a critical area of the St. Joseph River watershed that impacts water quality in the Maumee River and Lake Erie.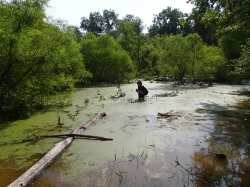 The east and west branches of the St. Joseph River converge on this property, which contains the highest quality of wetlands, referred to as Category 3. The property runs along a mile-long section of the river which drains counties in Ohio, Michigan and Indiana.
The floodplain is a rich ecosystem that feeds the St. Joseph River, which converges with the St. Marys River near Fort Wayne, Indiana, to form the Maumee River. Restoration of this important part of the Lake Erie watershed will moderate flooding, improve water quality and bring important plants and animals back to the region. The project will impact the full length of the Maumee River watershed and its millions of people.
This project will also protect important habitat for wildlife – including the federally-threatened copperbelly water snake and clubshell mussel.
Projects funded through WRRSP take about two years to close. Once we work through this process, we will pursue public access and restoration of a small portion of the site currently not in natural habitat.