Forrest Riverland Stream and Riparian Restoration Request for Proposals
The Black Swamp Conservancy is seeking proposals for implementation and construction of a stream and riparian restoration project on the 48-acre Forrest Riverland tract of our Forrest Woods Nature Preserve in Paulding County, Ohio. Forrest Riverland is an agricultural field with a narrow band of riparian woods that lies in the floodplain of the Maumee River and floods every spring. The Conservancy's goal is to convert 38 acres of farm field to a matrix of upland forest, bottomland forest and palustrine shrub wetlands, and to rehabilitate 580 feet of an unnamed tributary by expanding its floodplain. Fully engineered Construction Plans have been completed for this project and are included in the Request for Proposals. Contractors are encouraged to submit proposals with modifications to the design plans that would result in cost savings while still following the general design and incorporating the minimum Project requirements, as described in the attached RFP.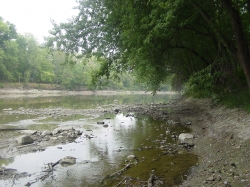 The Project scope of services and other details are described in the attached Forrest Riverland Stream and Riparian Restoration Project Request for Proposals. The following Exhibits for the Request for Proposals are available by contacting Melanie Coulter at mcoulter@blackswamp.org:
Exhibit A1 – Forrest Riverland County Map
Exhibit A2 – Forrest Riverland Aerial Map
Exhibit B – Construction Plans
Exhibit C – Final Design Plan Report
Exhibit D – Surface Water Delineation Report
Exhibit E – USFWS RTE Species Report
Exhibit F – Grant Agreement
Exhibit G – Conflict of Interest Disclosure Form
Exhibit H – Non Collusion Affidavit
Exhibit Draft Contract
The Contractor must be able to demonstrate the successful completion of at least 4 wetland or riparian restoration projects, preferably but not mandatorily within the Western Lake Erie Basin, to be eligible to submit proposals.
Proposals must be received by 4:00pm Eastern on August 22, 2018
QUESTIONS AND RESPONSE TO THIS RFP MUST BE EMAILED TO:
Melanie Coulter                   mcoulter@blackswamp.org            No phone calls please.
Questions must be received by email by August 6, 2018. Not later than August 8, 2018, the Conservancy will distribute all questions and responses to all firms that expressed interest. All firms interested in submitting a proposal and being included on the question and response distribution list should notify Melanie Coulter by email at mcoulter@blackswamp.org.
SITE VISIT
The Conservancy will host a site visit on August 1, 2018, at 10am. Contact Melanie Coulter at mcoulter@blackswamp.org to RSVP.