Conservancy Field Guide Distributed
Ohio Wildlife: A Coloring Field Guide Introduced in May
Schools, youth educators and families throughout northwest Ohio are getting a first look at the state's latest field guide for Ohio wildlife. The Conservancy launched Ohio Wildlife: A Coloring Field Guide with a number of spring events, and have given away more than 750 copies of the guide.
The guide offers information about fish, amphibian, reptile, bird and mammal species found in the state, in an inviting coloring book format with projects, activities and species information for the whole family to enjoy. With funding from the Reed Fund and the Seed-to-the-Sower Fund of the Toledo Community Foundation, we distributed copies of the guide at three events in May and early June, including our kick-off celebration with the guide's author, Amalia Celeste Fernand, at Side Cut Metropark. Learn more about the creation of the Field Guide in this Toledo City Paper story.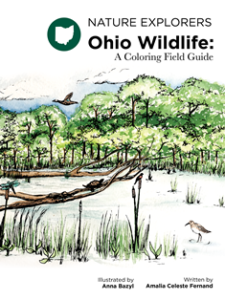 We've also distributed guides for youth education activities, including the Terra Community College's summer camp for 5th through 8th grade students, youth education programming at Toledo GROWs, and classrooms at Springfield Public Schools and Glenwood Elementary, Robinson Elementary and Beverly Elementary schools in the Toledo Public Schools district.
Guides are now available for sale at the Art Supply Depo in downtown Toledo, Sauder Village's Lauder General Store, the Lake Erie Islands Nature & Wildlife Center on Put in Bay, and at Wilderness Center near Canton. The guide is also available on the merchandise page of our website: $15.00 for pick-up at our Pemberville office; or $18.00 to have it mailed to your home.
For more information, call 419-833-1025. Wholesale rates are available for orders of 15 books or more.