Farmland Forever Carrying Out Dad's Vision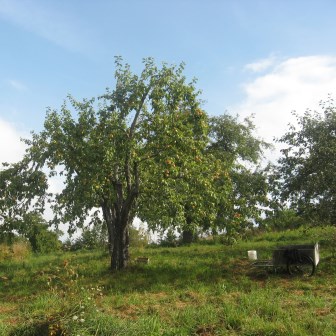 Rebecca Fausey's father instilled in her the importance of conservation. He spoke often about "misuse of land" and made her promise that she wouldn't allow the family farm to be split and turned into house lots after he was gone.
Dad's lessons stuck with Rebecca and guide the land ethic she lives by. In a Fremont New Messenger letter to the editor from 1990, disturbed by development trends, she wrote, "I urge all concerned citizens to speak up so that all of us – farmers and urbanites alike – may continue to harvest the many benefits of Ohio farmland." This was before Ohio had an Office of Farmland Preservation and before the Conservancy was actively preserving land – at that time, private landowners simply didn't have the options to preserve their properties that they now have.
Rebecca and her husband, Kevin Lause, recently made good on her promise to protect the family farm, by partnering with Black Swamp Conservancy on an agricultural agreement that ensures the property will remain farmland forever. "We did this as a memorial to my Dad" said Rebecca. "He would be overjoyed to know that organizations like Black Swamp Conservancy exist and are protecting our natural resources for future generations."
The property is an important piece of a greater conservation landscape that the Conservancy has been working to protect in Sandusky County.  It abuts other protected farms – more than 4,000 acres in total. It also serves as an open space buffer to Sandusky County Park District's beloved White Star Park.
This farm has been in the Fausey family since 1900. Over the years, the family has raised a range of crops including tomatoes, pickles, sugar beets and grain. The farm has probably best been known for the heirloom orchard Rebecca's father tended. "He had old heirloom varieties you couldn't find anywhere else" she remembered, "It wasn't a big orchard where you'd buy all your apples, but one where people would come year after year for special varieties." Most of those original fruit trees have since died off, but Kevin and Rebecca have added over the years (newer plantings of older varieties) and maintain them for family use.
We are glad to welcome this working farm into the Conservancy and look forward to partnering with more families in the community to protect their land and rural heritage.