Farming Cleaner Water
When Lyle and Sally (Carter) Loomis donated their 60-acre farm to the Wood County Park District almost 20 years ago, they planned for it to become a place to be enjoyed and appreciated by the community. Today it is a working depression-era (1930s) farm and cultural history museum, offering interactive programs, displays and special events throughout the year, and hosting a one-room school building along with the original homestead and barns. The farm is important in preserving the historic local rural land and the natural resources that support a successful agriculture industry.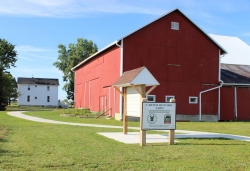 Last year, Black Swamp Conservancy proposed creating a demonstration wetland on the farm, and, supported by our partners at the Parks, we are currently engineering the plans. The restoration area, which sits parallel to the drainage ditch, will capture nutrients and sediments before they are able to leave the property and contribute to harmful algal blooms in Lake Erie. It will serve as a demonstration site where visitors can see a working wetland up close and learn about agricultural conservation. Once engineering and design are complete, we will seek out funding to complete the project.
Our hope is to use this project as a demonstration of the effectiveness of using natural habitats to protect our watershed.