Spend Your Spring & Summer Outdoors with us
The Conservancy wants to help you take advantage of every opportunity to be outdoors this spring and summer. Our events schedule for 2019 features walks, paddles and even mushroom hunting, along with some interesting new programs this year. Watch our events page and social media pages for updates and details, and contact us at 419-833-1025 or jpompa@blackswamp.org to register for your favorite events.
Walks & Photo Days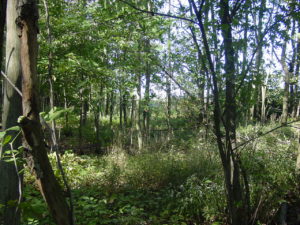 Earth Day 2019 - April 22 - Join us for an evening walk through Bell Woods (starting at 6:00 p.m.), with some invasives clean-up along the way. We end the evening with a bonfire & s'mores
Spring Walk at Sawyer Quarry - April 27 - Naturalist Denise Gehring will lead a morning (10:30 a.m.) walk through the interesting landscape of Sawyer Quarry
Spring in Bell Woods - May 4 - Photography with Michael Basista starting at 8:00 a.m., and a wildflower and bird walk, and ending with a 10:00 a.m. mushroom hunt with Jim Toppin
Lake Spring Walk - May 20 - Explore the restoration of Pearson North Wetlands in a 6:00 p.m. walk led by Tim Schetter, Metroparks Toledo Director of Natural Resources and Conservancy Board member
Other walks are planned for the Fremont area this summer.
Paddles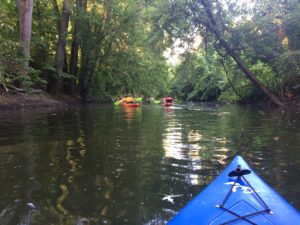 Paddle Downtown June 15, July 13 & 20 - Meet at the docks near the Toledo Farmers' Market, where we'll put in on Swan Creek for a paddle out to the Maumee and downtown Toledo, and then back to the Farmers' Market.
Our trip schedule includes two trips each morning (8:30 and 10:30 a.m.) - June 15, July 13 and July 20
Paddle Green Creek - June 22 - Meet at Green Creek, near Fremont, for a paddle out to Sandusky Bay
Additional paddles will be scheduled for later in the summer season.
Special Events
Coloring Book Release Party - May 11 - Rotary Pavilion at Side Cut Metropark - 10:00 a.m. to 1:00 p.m.- Celebrate with us as we introduce the new Ohio Wildlife: A Coloring Field Guide with the author, Amalia Celeste Fernand. She'll talk about her work and lead family activities, and we'll give out free copies of the guide.
Buckeye Trail Fest presentation - May 17 - 11:00 a.m. - Camp Widewater in Liberty Center, Ohio - Celebrate 60 yeas of the Buckeye Trail, and hear our Elisabeth Anderson talk about two of our protected properties along the Trail
Blue Week's Oak Openings Family Day - May 19 - 10:00 a.m. to 2:00 p.m. - Secor Metropark - we'll be meeting everyone and giving away copies of Ohio Wildlife: A Coloring Field Guide
Heritage Farm Fest - Carter Historic Farm - June 1 - 3:00 - 7:00 p.m. - we'll be there for the official opening of the wetland restoration project
Little Auglaize Day - June 8 - Little Auglaize Wildlife Preserve - 10:00 a.m. to 2:00 p.m. - we're offering tours and history of this new Conservancy preserve
You can also find the Conservancy at the Schedel Community Day (May 11), the Wildlife Fest (June 2 at Toledo Botanical Garden) and at Canoemobile (June 26-28) presented by TMACOG, where we'll have an activity station in downtown Toledo along the river.