Conservancy Receives Excellence Award
Black Swamp Conservancy, northwest Ohio's land conservation organization, has been awarded the 2015 Northwest Ohio Nonprofit Excellence Award.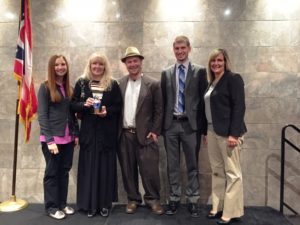 The award recognizes a local nonprofit organization for overall excellence. Finalists are those that demonstrate active involvement by staff, board members, volunteers, constituents, and other stakeholders in advancing the mission of the organization and that focus on community impact and results.
"Black Swamp Conservancy is a leader in our community, whose work benefits every resident of northwest Ohio.  The purpose of the Nonprofit Excellence Awards is to highlight those agencies that stand out for their contributions to our community, and that they do," stated Keith Burwell, president of Toledo Community Foundation.
The Conservancy received the small agency excellence award for its work preserving more than 15,000 acres of natural habitats and family farms across the region. In recognition of the recent water crisis, emphasis was placed on the Conservancy's continuing focus of habitat restoration projects that will result in reduction of nutrient loading to Lake Erie and the surrounding watershed.
"To be selected out of so many worthwhile organizations is quite an honor," said Rob Krain, executive director. "It is a testament to the importance of protecting northwest Ohio's valuable natural resources."
The event was presented by the Toledo Community Foundation and The Toledo Blade, in partnership with The Center for Nonprofit Resources, Buckeye CableSystem, and WTVG-13abc.