Changing Habitat Affects Plants and Animals
From frigid temperatures in January to record warmth in June, and with lots of precipitation in between, 2018 has been an unusual year so far. Can those extremes be reflected in the plants and animals we're seeing on these properties this summer?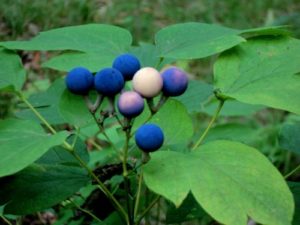 Yes! Locally, the cold spring, followed by a hot May, and then early rain in June followed by drought, compressed the time for plants to flower. Melanie Coulter, our Stewardship Specialist, said early flowers bloomed late and later flowers bloomed early. "This gave us a beautiful period of lots of different plants blooming at the same time," she said. But because they had a shorter period of "ideal weather" for blooming, they likely have produced fewer viable seeds. She said this may be hard on pollinators too, because they rely on flowers for their nectar. The overproduction of flowers in a short time window means there may be fewer blooms before and after that time period, giving the pollinators little food. "Also, many of us working outdoors have noticed that there seem to have been fewer bees than usual in May and June," she said.
Our restoration work has had an impact, too, on the plants and animals using our lands. In the St. Joseph Wetlands we're acquiring in Williams County, we've seen green dragons, lizard's tail and cricket frogs. And at Forrest Woods Nature Preserve (in Paulding County), we are seeing leopard frogs, wood frogs and spotted sandpipers using our new wetlands; and bobolinks and  Eastern Meadowlarks using newly native fields that were in corn and bean production in 2016. We found a family of hooded mergansers in a deep wetlands area where buttonbush are growing. "We're working to remove autumn olive throughout the area, and we're finding that native species return very quickly after that," said Melanie. "In fact, visitors have given us names of plant, animal and butterfly species that are not yet on our official species list for Forrest Woods."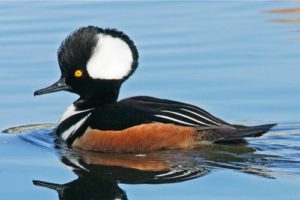 Closer to home, the Bell Woods Great Blue Heron rookery is back, and entertaining us with fly-overs during the day, and we have also found blue cohosh on the property. We have seen an abundance of wildflowers in the past few weeks, so pollinators should be satisfied around here. We even watched an Admiral Butterfly chrysalis metamorphosis on the porch of our Homestead building.
With July expected to continue hot and dry, we expect the shortened flowering times for many species to continue to be a theme this growing season. As the plants detect that the soil is drying up, they quickly produce flowers to entice pollinators to visit, giving the plants a fighting chance at producing seed this year before they dry up and die back. If we do see a late-season-shortened flowering period, on top of the one we had in spring, this could again be hard on our native pollinators.
How can we help protect them? While we can't control the weather, we can do our part to help buffer against weather extremes that we are now seeing most years. What can we do? Protect natural areas, and create more of them!