Carter Wetland Project Begins
You might see heavy equipment on Carter Historic Farm over the next several weeks. Not to worry, no houses or other development are being built on this protected property!
The Conservancy is partnering with our friends at Wood County Park District to restore 20 acres on the "back end" of the property to wetlands, typical of the Historic Great Black Swamp. This restoration will expand wildlife habitat on the property and enhance the park district's opportunities for interpretive programing. It will also accept runoff water from the farm and filter out pollutants before they are able to reach Lake Erie.
This week, the construction team is installing an access drive and erosion control on the grounds, and will be mobilizing the equipment they'll be using for the project. After a two-week break for the holidays, construction and earth moving will begin, during the week of January 7. Construction is expected to be complete in two weeks, and will include:
Construction of berms and swales around the exterior of the wetland restoration area
Locate and break drainage tiles in the wetland restoration area
Excavate pools and micro-topography in the wetland
Build interior berms
Install stone spillways for water control in the wetland
Prepare soil and installation of wetland seed mix in the wetland and erosion control / native grass seed mix on the berms
Next spring, planting of native shrubs and trees in the newly restored wetland will complete the project. We made sure to design the berms wide enough for a small tractor, so look for the parks to offer hay rides through this area in the future!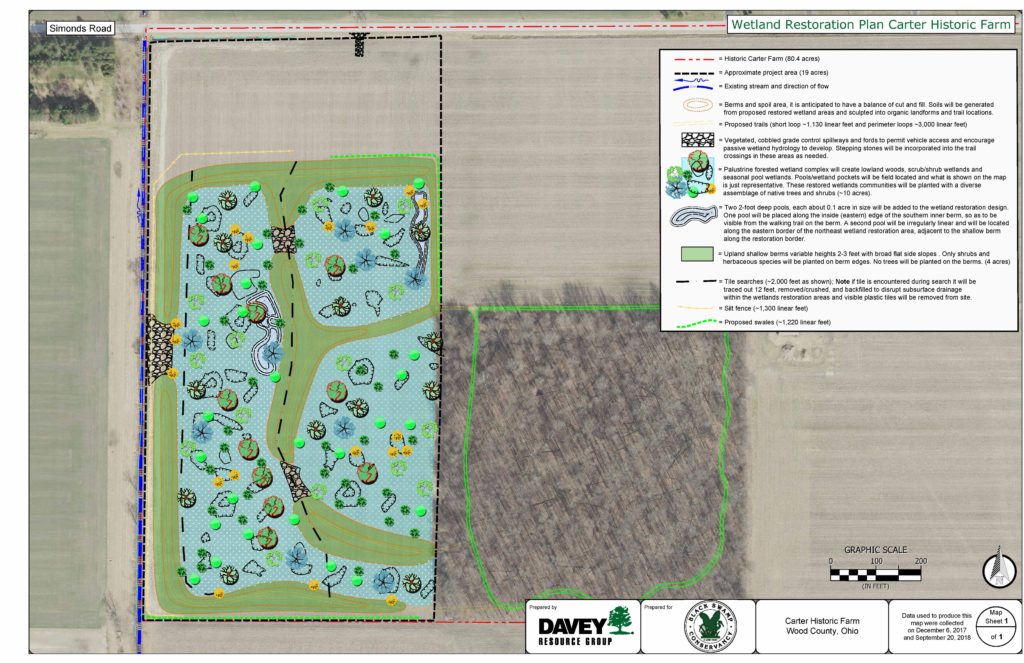 This project was financed in part or totally through a grant from the Ohio Environmental Protection Agency and the United States Environmental Protection Agency with Great Lakes Restoration Initiative funding.