Carter Historic Farm Wetland Restoration RFP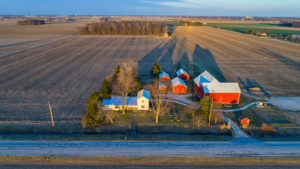 The Black Swamp Conservancy is requesting sealed Bids for a contractor or team of contractors to manage and implement all aspects (permits, construction and planting) of a wetland restoration project on 20 acres of the Wood County Park District's Carter Historic Farm in Center Township, Ohio. Fully engineered Construction and Restoration Plans have been completed for Phase I and Phase II of the Project (Exhibit B). The Conservancy's goal for the restoration is to convert between 7.1 and 15.2 acres of farm field to a matrix of palustrine forest wetland, palustrine shrub wetland and palustrine emergent wetland by disrupting field tiles, shaping microtopography and planting native plant communities. The Restoration Area drains to a ditch which flows into Toussaint Creek. The conversion of row crops to wetland is designed to create wildlife habitat and reduce NPS pollution to Toussaint Creek and western Lake Erie.
Exhibit A – Maps
Exhibit B – Construction Plans
Exhibit C – Final Design Report
Exhibit D – Surface Water Delineation Report
Exhibit E – USFWS RTE Species Report
Exhibit F – ODNR Environmental Review
Exhibit G – Grant Agreement
Exhibit H – Prevailing Wage Determination
Exhibit I – Conflict of Interest Disclosure Form
Exhibit J – Non Collusion Affidavit
Exhibit K – Draft Contract
To be eligible to submit proposals, the Contractor must demonstrate the successful completion of at least 4 wetland restoration projects, preferably within the Western Lake Erie Basin, .
Sealed Bids must be received by 4:00 pm Eastern on October 9, 2018
QUESTIONS AND RESPONSE TO THIS RFP MUST BE EMAILED TO:
Questions must be received by email by October 1, 2018. The Conservancy will distribute all questions and responses on October 2 to all firms that expressed interest. 
All firms interested in submitting a proposal and/or being included on the question and response distribution list should notify Melanie Coulter by email at mcoulter@blackswamp.org.
PRE-BID SITE VISIT
The Conservancy and the Park District will host a site visit on September 20, 2018, at 9am. Contact Melanie Coulter at 
mcoulter@blackswamp.org
 to RSVP.