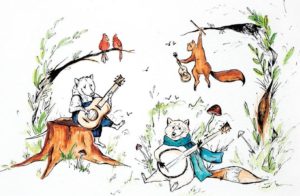 Join us for our annual Bluegrass & Green Acres fundraiser and help support the Conservancy's efforts to permanently preserve and protect northwest Ohio's natural habitats for future generations.
March 13, 2020
ProMedica Steam Plant in downtown Toledo
VIP Reception* at 5:30 p.m.
Doors open at 6:30 p.m.
Live Music by Woody Pines
Auctions • Heavy Hors d'oeuvres • Beer & Wine
*A limited number of tickets are available for a special reception prior to the event, to be held in ProMedica's History Museum Hallway, overlooking the Maumee River. Reception guests will be treated to special appetizers and a meet and greet with Woody Pines.
About the Band
Nashville troubadour Woody Pines cut his teeth on the streets as a professional busker, drawing liberally from the lost back alley anthems and scratchy 78s of American roots music.
Woody traveled all over the streets of this country road-testing his songs, drawing from the catchiest elements of the country blues, jugband, hokum and hillbilly music he loved, and adding in hopped-up vintage electrification to get that old country dancehall sound down right.
Rollicking street performances are the key to some of today's best roots bands, and they're the key to Woody's intensely catchy rhythms, jumpy lyrics, and wildly delirious sense of fun. Check 'em out below.

About the Location
ProMedica opened its new headquarters in this renovated Steam Plant in 2017. For Bluegrass & Green Acres we'll be using its two-story reception and atrium, which showcase the original building. Free on-site parking is available.
The Steam Plant has had an important place in city's skyline and its history. Established in 1896 as the Water Street Station, the building was one of the city's electric utility companies. It later became the Toledo Edison Steam Plant and provided steam heat to downtown buildings. The facility was retired in 1985 and remained vacant for over 30 years before being placed on the National Register of Historic Places in 2003.