A New Community Resource, Opening Soon
There are few opportunities in northwest Ohio to try your hand at rock climbing…now you have another chance to learn with the opening of the Sawyer Quarry Nature Preserve.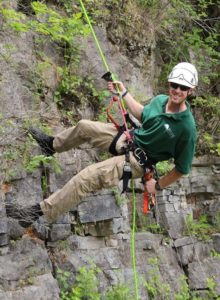 The Sawyer Family first partnered with Black Swamp Conservancy in 1999 to permanently preserve their 60-acre, Perrysburg Township property. In 2014, the Conservancy facilitated a donation of the property – which includes woods, a homestead, and a limestone quarry – from the Sawyer family to the Wood County Park District.
After some improvements, including a paved drive, parking, and signage, the Park District is opening the Preserve for limited public use. Upcoming programs include rope rappelling, seed cleaning, and an overnight winter adventure campout.
"We are so grateful for the generosity of the Sawyer Family and the help of Black Swamp Conservancy," said Neil Munger, Wood County Park District Director. "We look forward to opening the Preserve to the public so they will get a chance to enjoy this truly special place."
(photo courtesy of the Wood County Park District)