Come Roam the Prairie
Like putting the pieces of a giant puzzle into place, the Conservancy secured Clean Ohio funds to add another 6.45 acres of protected land to our Homestead property. The resulting picture is one of restored prairie land featuring an explosive wildflower bloom and a one-mile walking trail which is open daily for everyone to explore.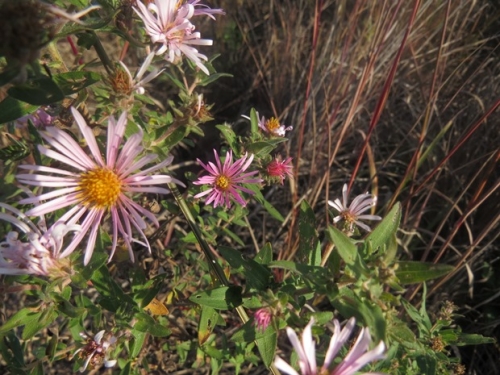 The entire prairie space is approximately 30 acres, and sits at the western edge of the Conservancy's Homestead. Adjacent to the prairie is the 80-acre Bell Woods, one of the best examples of the Great Black Swamp. When the Conservancy acquired Bell Woods in 2013, we arranged a "right of first refusal" for any of the prairie land that might come up for sale in the future. When the new property came up for sale it had been surveyed for future use as development lots, so protecting it was critical to keeping it as prairie and available for the public.
In addition to a collection of beautiful wildflowers, the prairie is home to such Ohio endangered plants as Rattlesnake Master and Canada Milk Vetch, as well as the Northern Harrier hawk. Students from Eastwood Schools and Bowling Green State University, as well as groups from the Pemberville Library, the Ohio Prairie Association and Scout troops use the prairie for research.
The walking trail meanders through the entire prairie, and is open daily from dawn to dusk. While you're here, stop by our office and say hello. We'd love to show you around!