2020 Bluegrass & Green Acres Auction Items
Check Out What's Available to Bid On
*Update on 3/12/2020
We're disappointed to report that Black Swamp Conservancy's Bluegrass & Green Acres celebration, scheduled for tomorrow evening, March 13th, is being postponed.
Out of concern for the health of those who are planning on attending and volunteering – and the entire community – we feel that it is best to follow the guidance of the Governor's office and local health officials.
Thank you for your understanding of these difficult and unforeseen circumstances.
Bluegrass & Green Acres remains an important event, both for celebrating our conservation successes and for raising critical funds for the Conservancy's mission. We will be in touch with you as new plans are developed.
Anyone with immediate questions or concerns is encouraged to reach out to the Conservancy at 419.833.1025.
Thank you so much for your ongoing support.
The live auction at this year's Bluegrass & Green Acres event features exciting adventures, vacation packages and more.
Explore the listings below and decide what you'll raise your paddle for!
This year's event will be held at the ProMedica Steam Plant in downtown Toledo on Friday, March 13. In addition to the live auction, the evening will feature down-home food, an open beer and wine bar, and a live concert performance by Nashville troubadour Woody Pines.
A limited number of tickets are available for a special reception prior to the event, to be held in ProMedica's History Museum Hallway, overlooking the Maumee River. Reception guests will be treated to special appetizers and a meet and greet with Woody Pines.
Get your tickets today!

Spirits Box

With this box of spirits, you can create six very different artisan cocktails. The package includes three spirits from Indianapolis' Hotel Tango Distilleries and three from Toledo's own Toledo Spirits Distilleries.
These two newly minted entrants into the small-batch craft spirits industry are attracting national attention in a very competitive field by crafting exceptional spirits and creating hip places to enjoy them.
Hotel Tango boasts spirits that are "fit to serve…and made to share" in Indiana's favorite tasting rooms in Indianapolis, Fort Wayne, and Bloomington (coming soon).
Toledo Spirits prides itself on "meaningfully-sourced ingredients" and its inviting cocktail bar, Bellwether, located just five blocks north of Downtown Toledo.
Stir up the cocktails, kick back, and invite friends over to decide which state is leading the competition: Hoosiers or Buckeyes?
Donated by Becky Fuhrman & Don Leary and Karen & Bob Lucas
Wild Pheasant Hunt

For the experienced sporting enthusiast, Thorn Bottom Hunting is offering a unique wild pheasant hunt.
Comparable to any South Dakotan wild hunt offering, this 20-bird hunt package includes an experienced guide alongside well-trained hunting dogs, as well as bird cleaning.
While all participants who are carrying a gun must have hunting experience, Thorn Bottom Hunting encourages guests of the hunters to walk along, take pictures, and enjoy the hunt and the diverse natural surroundings of Paulding County, Ohio.
Wishing to recreate the wild hunting experiences of his youth, Brad Dysinger and his wife Ann, have been operating Thorn Bottom Hunting for 24 years as a place to remember what hunting is truly about.
Metroparks Pine Ridge Chalet Experience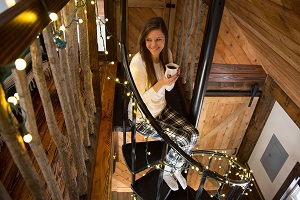 Walking through a grove of pine trees, the ground is springy and soft, the wind whistles through needles in the treetops, and the fresh smell of pine resin calms and rejuvenates. The tree trunks stand tall and straight and, at night, open up to the starry heaven above.
This unique offering by Metroparks Toledo is perfect for the nature-lover in all of us. It includes:
A two-night stay for up to five guests at the Pine Ridge Chalet, a secluded retreat in the refreshing pine groves of Oak Openings Metropark
An exhilarating Tree Climbing Experience or an exclusive Guided Nature Hike for your group, up to six participants.
This item is intended for use before 12/31/2020.
Flying Lesson Over Lake Erie Shores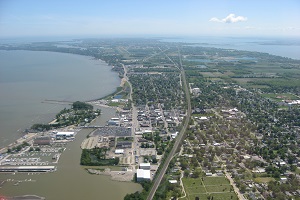 Up, up, and away! This amazing air adventure will give you a bird's eye view of many Black Swamp Conservancy-protected lands and shorelines. The lucky student will meet Instructor Bill Davis at the Wood County Regional Airport to learn the procedures required for a successful take-off, flight and landing.
Bill will engage you in the processes of checking the weather, fueling the plane, studying the panel instrumentation, starting the engine, and taking off. Once in the air, the student will have the opportunity to fly and also to help land the plane.
This 3 to 4-hour experience includes a flight to Port Clinton, OH, where a $100 "belly buster" hamburger at the renowned Tin Goose Diner awaits you before your return flight to the Wood County Regional Airport.
Lake House at Devil's Lake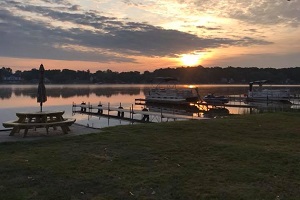 Enjoy a week at this wonderful year-round lake house located on Devil's Lake in Manitou Beach, Michigan. Perfect for a family vacation or a couple's get away, you will love every minute of "lake life" this house has to offer!
This lovely lake house is fully furnished and has plenty of room for friends and family to meet and create memories that will last for years to come. The house includes:
Master bedroom with queen-sized bed and en-suite bathroom
Bedroom with queen-sized bed
Bunk room with twin bed and full-size futon
Two full bathrooms (including master en-suite)
Fresh linens and towels
Fully equipped kitchen with eat-in bar for two
Full-sized dining table and chairs
Large family room with plenty of comfy seating
Sandy beach area for kids to play
Two TVs with WiFi available for streaming services (no cable)
Large deck with a tiki bar, loungers, outdoor table, and a large gas grill
Laundry room with full-size washer and dryer
Whole-house water filtration system for the well water
Year-round air conditioning/heat
Seasonal dock for your boat
Plenty of parking
Just one hour from Perrysburg, OH, this special place has year-round appeal whether you prefer the sun and sand or a winter wonderland adventure! Since this is a rental lake house, please book your week immediately after the Bluegrass Green Acres event for the best availability possible. Your vacation stay begins at 10:00 am Monday morning and concludes 7:00 pm Sunday evening.
Please note, this offering is based on currently available weeks from September 14, 2020 to May 15, 2021.
Baker O'Brien Day

Choose your own adventure with this eclectic auction package offered by world-renowned glass artist Baker O'Brien. As the sole apprentice of legendary glassmaster Dominick Labino, Baker has been mixing, melting, and blowing vividly colored glass for over 30 years. She uses strong, rich colors in bold simple forms for one-of-a-kind glass pieces of distinction.
For you and your five guests, the basic package starts with a "cook's tour" of the world famous Labino Studio, located on the Rusted Mare Farm near Grand Rapids, Ohio. During this tour, Baker will explain the various processes involved in creating her unique glass colors. At this bid level, you will also receive a $50 gift certificate for the Wild Side Brewing Company, an American farmhouse brewery and restaurant in downtown Grand Rapids.
And here is where this package gets even more interesting! As you increase your bid, more options become available to you:
Acquiring the glass blowing demonstration art piece
Receiving your choice of freshly baked bread or pizza, hand-made by Cheri Budzynski
Horse riding with Baker and Cheri at their on-site arena
Meeting with Lloyd Jones, retired University of Toledo biology professor and former Conservancy board member, to learn about local flora and fauna
Fly-fishing at the farm's pond with Jim Bayer
Bid high and win this entertaining and unique adventure with Baker O'Brien at Labino Studio and Rusted Mare Farm!
Rockwell Springs Trout Club Fly-Fishing Day

"In our family, there was no clear line between religion and fly fishing."
— Norman Maclean, A River Runs through It
What is it that captivates and beguiles the fly-fisher? Find out, as you and two guests join host Keith Burwell, President and CEO of Greater Toledo Community Foundation, for a day-long fly-fishing excursion at the renowned Rockwell Springs Trout Club.
From novice to expert, Keith will provide an engaging day as well as all fishing tackle. The day starts with an 8:30 am breakfast, with lunch provided around noon.
Located on approximately 125 acres, about two miles southwest of the village of Castalia, Ohio, Rockwell Springs Trout Club was formed for the relaxation and enjoyment of the trout fly-fisher. Become beguiled with this delightful spring or summer excursion!
Skeet Shooting Adventure

What a wonderful opportunity for up to six people at the Ottawa Skeet Club on Monclova Road!
This half-day adventure will be led by Bill DeHoff, who will provide all needed guns and ammunition (unless you would like to bring your own) for any ability level.
Beginners are welcome and encouraged! Experienced shooters may enjoy the five-stand sporting clays. Children should be at least nine years old.
Reservations not available in July and August, or on Sunday mornings.
Farmer for a Day at a CSA

Farmer and poet, Wendell Berry, said "We have neglected the truth that a good farmer is a craftsperson of the highest order, a kind of artist."
This unique Farmer for a Day experience will give you a chance to spend some time with the artist that is the farmer.
Join Farmers Kurt and Corinna Bench of Shared Legacy Farms for a day of work and a behind-the-scenes look at the operation of their 20-acre organic farm, which supplies one of northwest Ohio's most successful Community Supported Agriculture programs.
Anticipate having a good harvest and taking home some well-earned vegetables to transform into delicious dishes. From seed to sprout to ripened vegetable, come experience the craft and art that is the farmer.
This item is intended for weekday use when Farmer Kurt is in the field and is subject to the weather.